Asia has it too: Fitch downgrades Japan
Published time: 22 May, 2012 10:56
Edited time: 22 May, 2012 14:56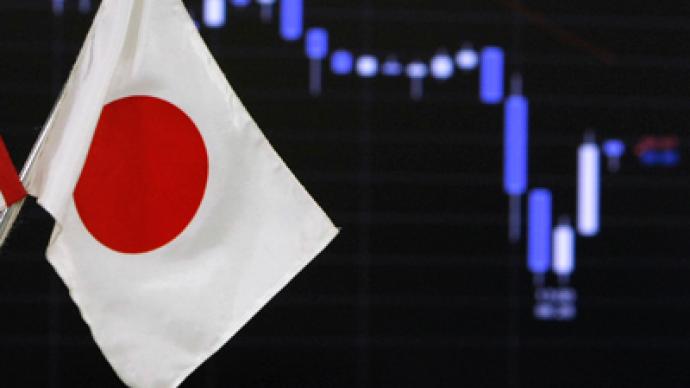 Clouds are gathering over the land of the Rising Sun as Fitch rating agency has downgraded the sovereign credit rating of Japan and revised its outlook to negative.
Japan's Long-Term Foreign and Local Currency Issuer Default Ratings (IDRs) have been cut to 'A+' from 'AA' and 'AA-' respectively. The move reflects "growing risks for Japan's sovereign credit profile as a result of high and rising public debt ratios," according to Andrew Colquhoun, Head of Asia-Pacific Sovereigns at Fitch.

Japan's general government debt is expected to hit 239% of GDP by the end of 2012, compared to the average 39% for OECD economies and 8% for 'A' –rated economies. Even Greece has a debt of 178% GDP. This debt ratio would also have risen by 61% since the global financial crisis broke out.

The rating agency wasn't impressed by Japan's plan of fiscal consolidation as it provides debt burden reduction only from 2021. According to Fitch, the so-called Fiscal Management Strategy "looks leisurely relative even to other fiscally-challenged high-income countries, and implementation is subject to political risk".
Indeed, the government's key strategy to raise revenue requires boosting the consumption tax to 10% by 2015 from the current 5%. The measure is planned to start in 2014 and is considered politically controversial.
"Japan has been removing the consequences of the natural disaster in 2011as the debt crisis in Europe worsened and the US economy showed signs of slowdown," said Anna Bodrova from Investcafe. "All these factors affected processes of restoration and stabilization in the land of the Rising Sun."

However, Fitch considers that broader private sector savings, official foreign reserves worth $1.3 trillion and the fact that the Japanese yen is a global reserve currency will help the country's economy to stay firm.