Japan in doldrums as export shrinks
Published time: 12 Nov, 2012 08:43
Edited time: 12 Nov, 2012 12:43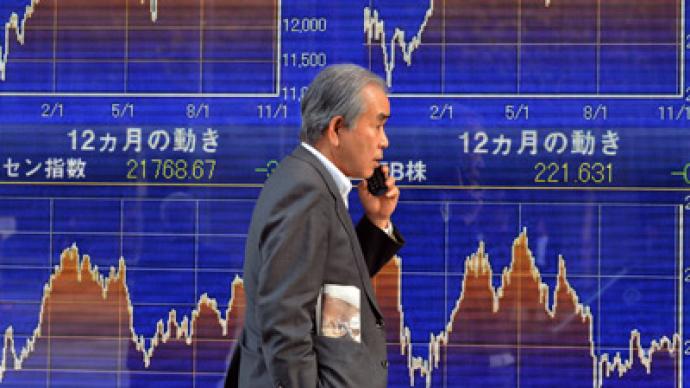 While investors are focused on the eurozone crisis Japan's economy is showing signs of contraction as its GDP fell last quarter by 3.5%, the most since the earthquake and tsunami in early 2011, while exports and consumer spending slumped.
­The results fell below analysts' expectations, which predicted Japan's GDP to decline 3.4 % in the Q3, according to a Bloomberg News survey last week. It was expected to be the third technical recession since 2008.
"The GDP figures were grim," Japanese PM Yoshihiko Noda told parliament after the data was released. Noda is preparing for an election and has pledged to speed up government efforts to boost the economy. Weaker results could undermine his efforts including a crucial plan to raise the national sales tax from 2014 to boost revenues. The proposed measure would be the first tax rise in more than a decade and is considered politically controversial.
"Today's bad economic numbers deliver unpleasant news for Noda," Hiroshi Shiraishi, senior economist at BNP Paribas SA in Tokyo, told Bloomberg. "It will take a while for Japan to get back to a sound recovery, considering a modest pick-up in the global economy at best and the country's damaged relationship with China."

Japan suffered the worst September trade result in more than 30 years amid the territorial row with China. The long running dispute re-emerged after the Noda administration's bought a group of islands that China also claims. Exports to China – Japan's biggest trading partner – sank 14% from a year earlier to 953.4 billion yen ($12.2 billion). Meanwhile the spreading crisis in Europe also hurt Japanese exports.
Weaker exports have hit Japanese corporate majors such as Sharp, Panasonic, and Nissan, which heavily rely on foreign trade. Panasonic  forecast a $9.5bln loss this year, 30 times bigger than analyst estimates, while Hitachi Construction Machinery Co. and Nissan Motor Co. cut their full- year profit forecasts and cosmetics major Shiseido Co. plans spending cuts.
At the end of October the Bank of Japan expanded its asset-purchase program by 11 trillion yen ($137bln) to 91 trillion yen for the second time in two months. With the new weak figures the BoJ is likely to continue its supporting policy under political pressure, experts believe.
High debt burden is another problem of the Japanese economy. Earlier this year the US-based Fitch rating agency cut Japan's Long-Term Foreign and Local Currency Issuer Default Ratings (IDRs) to 'A+' from 'AA' and 'AA-' respectively. The move reflects "growing risks for Japan's sovereign credit profile as a result of high and rising public debt ratios," according to Andrew Colquhoun, Head of Asia-Pacific Sovereigns at Fitch.

Japan's general government debt is expected to hit 239% of GDP by the end of 2012, compared to the average 39% for OECD economies and 8% for 'A' –rated economies. Even Greece has a debt of 178% of GDP. This debt ratio has risen by 61% since the global financial crisis broke out.

However, Fitch considers that broader private sector savings, official foreign reserves worth $1.3 trillion and the fact that the Japanese yen is a global reserve currency will help the country's economy to stay firm.