Japan to scrutinize lenders after Mizuho gangster link
Published time: 30 Oct, 2013 12:03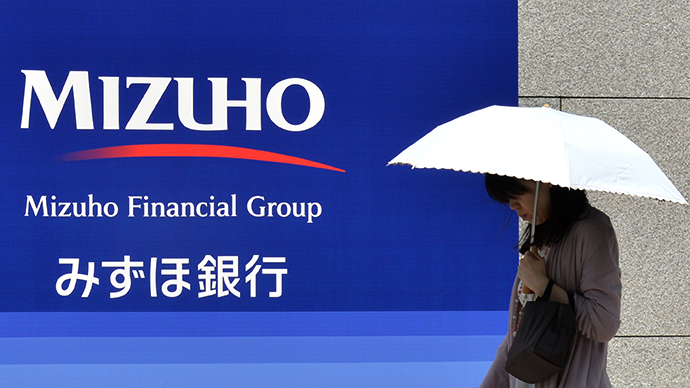 Japan's Financial Services Agency (FSA) plans to inspect the country's biggest banks, after the second largest lender Mizuho was accused of allowing above 200 million yen ($2 million) in loans to organized crime.
Among the Japanese banks in the firing line are the country's biggest lender by assets Bank of Tokyo-Mitsubishi UFJ, Mizuho Financial Group and No. 3 bank Sumitomo Mitsui Bank, Associated Press reports.
The inspection by the FSA will be carried out next week and focus on compliance and risk management.
The move comes after an independent panel reported on Monday that its probe found Mizuho lax in cleaning up more than 200 million yen ($2 million) in lending, mostly auto loans, to clients associated with "anti-social" elements, a byword for organized crime.
Last month the FSA demanded Mizuho presented a strategy of "improvements" to its lending business. Japan's second largest lender has pledged to end the loans, step up anti-mob screening of incoming business, tighten corporate governance, and improve internal awareness of preventing dealings with those linked to organized crime.
On top of that the Mizuho Financial Group said on Monday the chairman of its banking business and two other top executives will resign. Bank President Yasuhiro Sato, will remain at his post but give up six months of pay. The bank is also appointing Tatsuo Kainaka, a former prosecutor and Supreme Court judge with a reputation for toughness, to be its chief compliance officer. 
Complying with a gesture which is widespread in corporate Japan Sato and other top executives bowed deeply in apology.
"We caused a great deal of trouble and I want to express my deepest apologies,'" Sato said.  "I am aware there are various opinions about this, but this is what was decided in this case," Sato said when asked if the penalties were too weak.
Mizuho troubles reflect the difficulties financial corporations across the country face trying to avoid dealings with Japanese gangs, known as the "yakudza." They are entrenched in many areas of the economy despite efforts to freeze them out of the financial system.