Italian election cliffhanger raises concerns over eurozone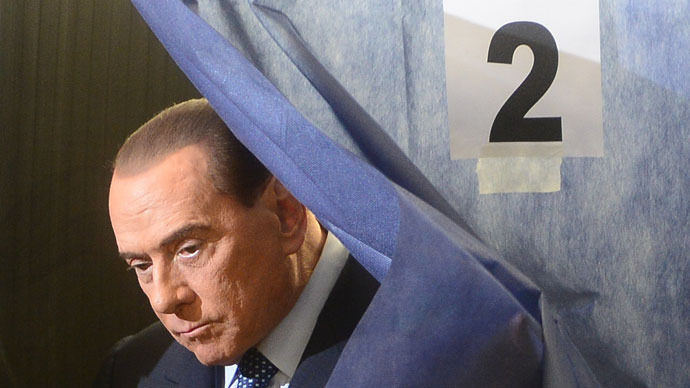 Experts fear a split parliament in the eurozone's third-largest economy is likely to paralyze any new government and potentially reignite the eurozone debt crisis.
Pier Luigi Bersani's center-left coalition is poised to gain a majority of seats in the Italian Parliament's lower house, but the upper house will be deadlocked, the Interior Ministry said on Tuesday after 99.9% of the votes had been counted.

"The situation looks ungovernable, and that's the worst outcome you can imagine," said Guido Rosa, president of the Italian Foreign Bank Association, Wall Street Journal reports.

The political gridlock sent markets into a downward frenzy on Monday, as many experts fear that paralysis in Italy will hinder economic recovery; the market recorded its biggest drop in more than three months.

Asian stocks were among the hardest hit: Japan's Sony Corp slipped 3.5%, the Nikkei fell 2.2% and Global Logistics Properties fell 6.9% in Singapore. Asian markets have relied heavily on the European recovery, as much of their revenue is based in the eurozone.

"It revives memories of risks in the eurozone," said Yuji Saito from Credit Agricole in Tokyo told Reuters. "I doubt that the situation will turn into a disaster, but we need to carefully monitor developments."

Wall Street hit a four-month record low, the S&P dipped below 1,500 and the Dow slumped more than 200 points. US banks also reacted to the risk of political uncertainty in Italy: Morgan Stanley fell 6.6%, Citigroup declined 3.8%, Bank of America dropped 3.6% and JP Morgan slid 2.5%.

The euro dropped below 1.31 to the dollar, a six-week low for the currency.
The situation is likely to come down over the course of the next couple of weeks and there is no reason to panic, Nick Parsons, Head of Research in UK & Europe at the National Australia Bank in London told RT Business.
"We don't believe there is any existential threat to the European single currency area. Yes, there are going to be a few wobbles, yes, there is a little bit of uncertainty, but Italy is by no means the worst economy in euroland and its certainly not about to leave the euro whatever the various claims of different political spokespeople."

Investors, analysts, hedge funds and foreign markets are all closely watching Italy's next political move. If the eurozone's third-largest economy goes rogue and refuses to cooperate with the recovery plan, it could upend global markets.

Both Berlusconi and Grillo ran anti-euro platforms, railing against 'Brussels bureaucrats' and 'dictates from Berlin.' Grillo has even suggested Italy ditch the euro currency. Bersani vowed to work with the eurozone to reconcile Rome's €2-trillion debt.

"I think the worst is yet to come for Italy," said Gianfranco Fini, a former foreign minister, and political opponent of Monti.
You can share this story on social media: