Ireland first eurozone state to exit bailout in Dec - PM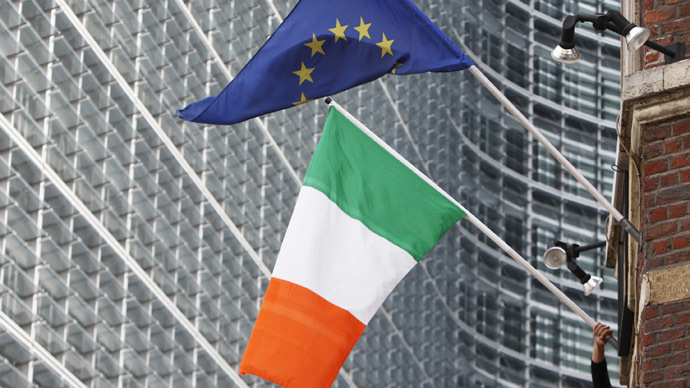 Prime Minister Enda Kenny announced Ireland will wrap up its three-year bailout plan by December 15. The PM admitted "fragile times" were still ahead for Ireland as the country readies to cut off its "financial lifeline."
Ireland will receive its last loan instalment and require no additional IMF loans to cover borrowing expenses in 2014, Kenny said at the Fine Gael political conference in Limerick.
"But at last, the era of the bailout will be no more. The economic emergency will be over," the Irish PM said, dispelling rating agency Moody's claim the nation would need a second bailout. A $113 billion (85 billion euro) finance package was approved in 2010.
Ireland's finance minister, Michael Noonan, was a soundboard for the Prime Minister's comments, and also said the Irish government will not apply for a precautionary credit line, as the country has significant cash reserves. 

"IMF countries that exited bailout programs in the past had a kind of precautionary program attached…But we have a very significant backstop because the NTMA (national debt agency) is carrying cash buffers of about 25 billion euro," Noonan said at a press conference after the Fine Gael political party conference on Saturday.

Though Ireland is set to be bailout free, government officials are still aware of the great economic challenges ahead.
There are "fragile times" ahead, and the budget due on Tuesday would be tough, but that Ireland was ready to leave the bailout, Kenny added, speaking at the same conference.

Ireland's burgeoning debt, triggered in part by the stock market crash in October 2008, led to the failure of several banks and made it the most indebted country in the world relative to GDP, with debt at more than 125 percent of GDP, an 18 percent jump from last year.

To tackle the debt, government officials have embraced austerity measures, and have cut spending throughout the public budget and have made modest economic progress.

Spain, Greece, Portugal and Cyprus have also received IMF bailout loans as a result from the euro debt crisis.

Olli Rehn, EU commissioner for economic and financial affairs has said that Ireland, along with Spain, has made an "important economic turnaround".
Ireland emerged from its second recession in five years. Gross domestic product rose 0.4 percent in Q2, shaking off a steep slowdown, but officials were cautious not to celebrate too early.

Unemployment remains stuck in double digits - at 13.4 percent, which is still nearly 1 percent lower year-on-year.
Unemployment has forced a great outward migration, and almost one person leaves Ireland every 6 minutes for better job or living conditions.