Iraq intends to replace Exxon with Russian companies - reports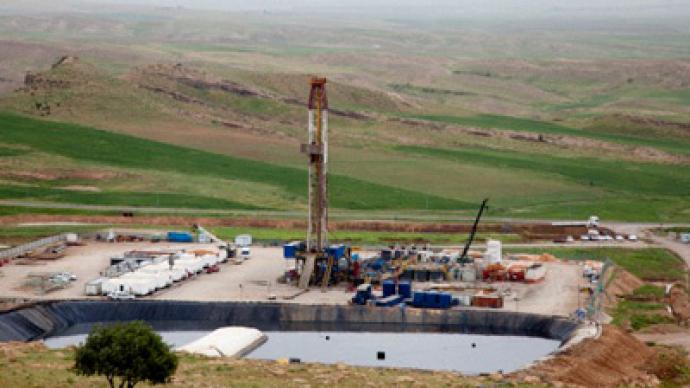 Iraq is reportedly considering replacing US oil major ExxonMobil with Russian companies in the West Qurna-1 project, as the authorities are angered by ExxonMobil's deal signed with the Kurdistan regional government without Baghdad's approval.
Baghdad is considering inviting Russia's LUKOIL and Gazprom Neft – both already operating a number of projects in the country, instead of Exxon Mobil to develop the West Qurna-1, Nefte Compass weekly reported on Thursday. With the step Baghdad would signal international companies operating in Kurdistan that it rejects any agreements with the semi-autonomous region's government, sources in the industry told RT.Iraqi Prime Minister Nouri al-Maliki has reportedly offered the deal to Russian President Vladimir Putin at the meeting Wednesday, the newspaper said. However, no such offers have been officially announced. Russia's second-largest oil producer LUKOIL has refrained from comment. But Lukoil sources told RT that the company hasn't received any official offers. Currently the oil major is developing the West Qurna-2 oil field in partnership with Iraqi state-run North Oil Company after Norway's Statoil left the project. LUKOIL holds a dominant 75% share.On Wednesday Gazprom Neft, the oil arm of Russia's top natural gas producer Gazprom, froze two contracts for oil development in the Kurdistan region, according to the Iraqi PM. In August the company signed two production sharing contracts with the Kurdistan Regional Government directly avoiding Iraqi Oil Ministry approval. The company declined to comment, though a source told Reuters that Gazprom Neft is still interested in Kurdistan's oil.The Russian oil major is already developing the 300 million barrel Badra deposit near the Iranian border. It holds a 30% stake in the project, along with South Korea's Kogas with 22.5%, Malaysia's Petronas with 15% and Iraq's state-owned Oil Exploration Company with 25% in the project. Production is due to start by 2013.