Successful bid: Lukoil-led group to explore 2nd field in Iraq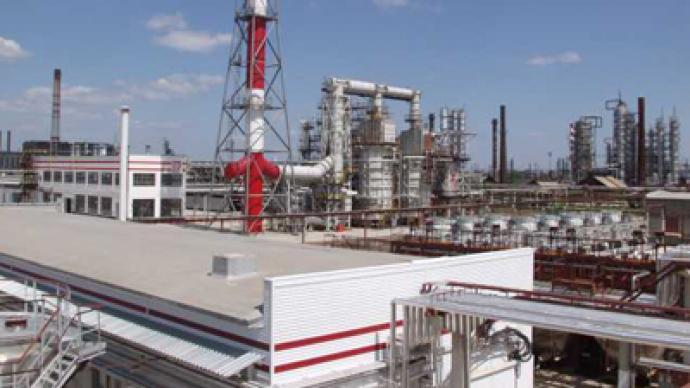 A group led by Russian oil firm Lukoil has won a bid for a key oil block on the last day of Iraq's energy auction.
­Lukoil and partner Inpex of Japan won the deal for the 5,500-square-km Block 10 in Muthanna and Dhi Qar provinces in the south in an auction Iraq had expected would attract more bidders.
Only three blocks out of 12 were awarded in a two-day energy auction that ended Thursday reflecting reluctance of foreign investors to risk money in unexplored areas and operate amid Iraq's continued political instability, overshadowing the country's hopes for a rapid development of its huge oil and gas reserves.
Russian Bashneft was among the bidders but received no contract.
This is the second contract Lukoil has obtained in Iraq. A consortium led by the giant firm won a tender in 2009 to increase oil production at Iraq West Qurna-2, one of the world's largest oilfields with reserves estimated at 12.9 billion barrels of oil.
Lukoil plans to launch production at the field in early 2014. The company holds a 56.25% stake in the group, while Norway's Statoil has 18.75% and Iraq's state oil company the remaining 25%.
However, in March Statoil sold its 18.75% stake in West Qurna-2 to Lukoil, which so far has the richest foreign portfolio among Russian oil firms.
Iraq is offering foreign companies less attractive technical-service agreements – where they are paid a fee, but the deal does not allow them to profit jointly from the output.
"The Iraqi government offers technical-service contracts which require companies to rapidly reach high levels of output to compensate for the expenses and risk. For West Qurna-2 the daily output at which Lukoil can start making up for the expenses is 120 000 barrels. After covering all costs it will get only $1.50 a barrel irrespective of the price of oil. The new Iraqi field will bring Lukoil a much bigger sum – about $5.99 for each barrel of oil," says Grigory Birg from Investcafe.
Another bid was offered to Pakistan Petroleum, which won gas Block 8 in Diyala and Wasit provinces in eastern Iraq.
The first day of the auction saw only one block taken by Kuwait Energy.