Iran names European, US firms it wants back to its oilfields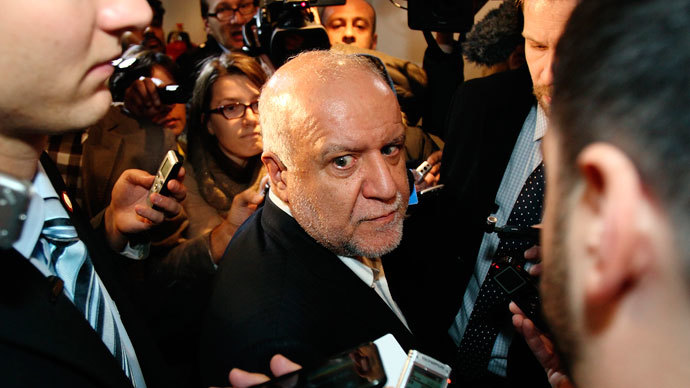 Iran named seven Western companies it wants back to explore oil in the country after international sanctions are lifted, including five European and two American firms. Contract terms will be announced in April 2014.
Total of France, Royal Dutch Shell, Italy's ENI, Norway's Statoil, Britain's BP and US companies ExxonMobil and ConocoPhillips will be welcome to work in the country, Reuters reported Iranian Oil Minister Bijan Zanganeh as saying.

Speaking to reporters at an OPEC meeting, Zanganeh said he had already negotiated with some of the companies, but not yet with the American firms.
"We had no limitations for US companies. Twenty years ago there were limitations against them from their own administration. For doing projects in Iran, we have no limitations," Zanganeh said.
In reply to a question about whether Iran wants to see Chinese and Indian companies working in Iran, he said: "Yes, but now we are discussing with European [firms]."
Mehdi Hosseini, an Iranian official in charge of revising national investment terms, said he hoped to introduce a new contract model for foreign oil firms at a London conference in the second week of April.
The US, Russia, China, Britain, France, and Germany have said they will loosen trade sanctions on Iran if it promises to wind down its nuclear plans under the Geneva accord.
However a western oil source from a company that had invested in Iran said, "A removal of sanctions that would allow for tangible progress for international oil companies is still at the minimum 18-24 months away."
"The Iranians aren't under any illusions that they can draw anyone in before the sanctions are lifted," said a Western oil executive from another company previously involved in Iran. "And most international oil companies will be careful not to go one step too far before a final agreement is reached between Iran and the West."
Iran has 18 percent of global natural gas reserves and the world's fourth-largest proven oil reserves. Last week, Tehran agreed at talks in Geneva to curtail its nuclear program in exchange for gradual cancelation of international sanctions that prevent western companies from doing business inside the country.
Tehran has been negotiating with potential investors in its oil and gas sector for some time. Before the present harsh sanctions were applied in 2010, several of Europe's largest oil and gas companies were ready to invest billions of dollars in the country's economy.
The economic blockade has already cost Iran some $120 billion in lost revenues since 2010, the US Treasury has estimated.
You can share this story on social media: