Market Buzz: iPhone 5 debut boosts tech shares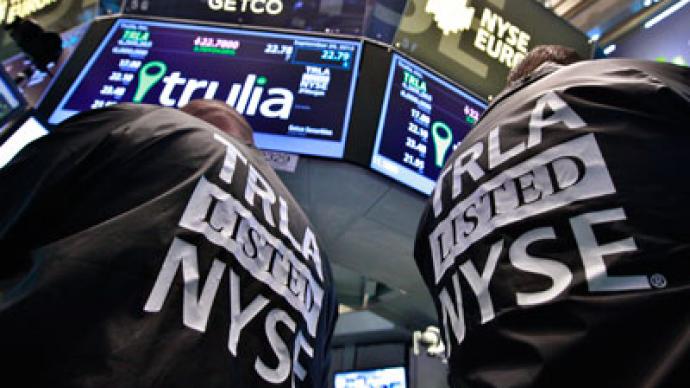 Investors worldwide are wary of making big moves on the market after economic reports from the US and China fueled concerns about the health of the global economy.
The Russian markets were slightly higher on Thursday, with the MICEX and the RTS each marginally up, 0.2%.Asian stocks advanced on Friday, after their losing streak this week, as Apple's iPhone 5 debut boosted hi-tech shares and energy companies advanced on higher crude prices.Hong Kong's Hang Seng Index rose 0.8% while the Shanghai Composite Index was higher 0.52% after plunging 2.1% on Thursday after data showed a further deterioration in manufacturing activity in China raising concerns about the health of the country's economy. The Nikkei Stock Average gained 0.6% and South Korea's Kospi added 0.5%.The troubled electronics company Sharp Corp. jumped 5% in Tokyo after a local media reported that the company is in talks with Intel for a capital tie-up with cash injection of about $380 million. Even though Sharp denied reports it is in talks with Intel. Samsung Electronics, a rival to Apple, gained 1.2% in Seoul as the new iPhone went on sale. Japan's No.1 energy explorer Inpex gained 1.6 % as crude oil rebounded from a 7.2% drop in the past four days.US stocks were mixed on Thursday, as most global stocks slumped after economic reports from the US, China fueled concerns about the health of the global economy.Weak US labor data followed reports illustrating slowing growth in China and Europe, with figures from the Labor Department showing first-time jobless claims fell by 3,000 last week to 382,000.The Dow Jones Industrial Average was slightly higher 0.1%, with Kraft Foods and Microsoft leading the gains with 1.86% and 1.28% respectively. The Nasdaq Composite eased 0.2%.European stocks were weaker and the euro came under pressure as disappointing global manufacturing and labor reports added to worries about global growth. Germany's DAX shed 0.02%, France's CAC-40 dropped 0.6% and the UK's FTSE 100 lost 0.6%.