Japan joins global initiative to stimulate growth
Published time: 19 Sep, 2012 09:18
Edited time: 19 Sep, 2012 13:18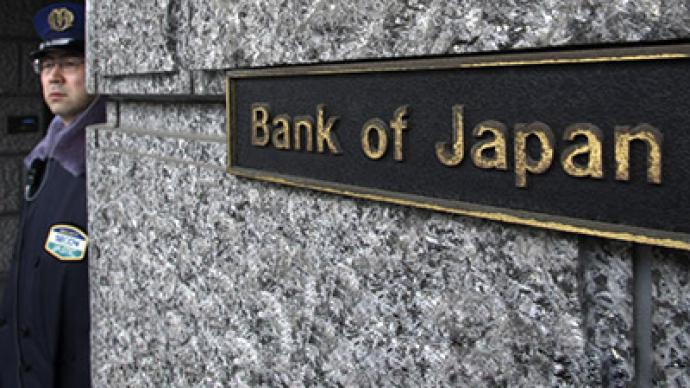 Japan's central bank has decided to extend its monetary easing programme by 10 trillion yen ($126 billion). It's an effort to nurture the country's feeble economic recovery and cushion its exporters from the yen's rise against other currencies.
The Bank of Japan (BoJ) closed its two-day policy meeting by increasing its asset-purchasing fund to 55 trillion yen ($695 billion) from 45 trillion yen. The bank also kept its key interest rate at the minimal level of 0 -0.1%, which will help to stabilize the yen, said Masayuki Kichikawa, an economist at Bank of America-Merrill Lynch. The BoJ's decision came as a "pleasant surprise", to Kichikawa, as the central bank had not been expected to ease policy until late October.
"In theory, these money injections should stabilize the local economy before the neighborhood shows signs of a recovery. As soon as the external situation stabilizes, Japan's system will start recovering by itself," says Anna Bodrova of Investcafe.
Alarm bells over the weakening Japan's economy has been getting louder. Industrial production fell 1.2% in July from June compared with a forecast of a 4.5% increase. The outlook for the coming months is even gloomier. Manufacturers foresee output barely inching up 0.1% in August and sliding 3.3% in September.
The BoJ move came as a part of a global initiative to stimulate weakening economies across the greatest part of developed world. Last week the US Federal Reserve's announced another round of a so-called quantitative easing – to boost the stock market and make borrowing cheaper for years to come. Also, Germany's top Constitutional Court ruled the €500 billion bailout for Europe was legal under German law. It gave the green light to the European Stability Mechanism – a permanent eurozone bailout fund – which will allow the European Central Bank to buy sovereign bonds – also in an effort to lower interest rates and boost economic growth.