Market Buzz: Pinning hopes on US Fed stimulus
Published time: 20 Jun, 2012 06:06
Edited time: 20 Jun, 2012 11:40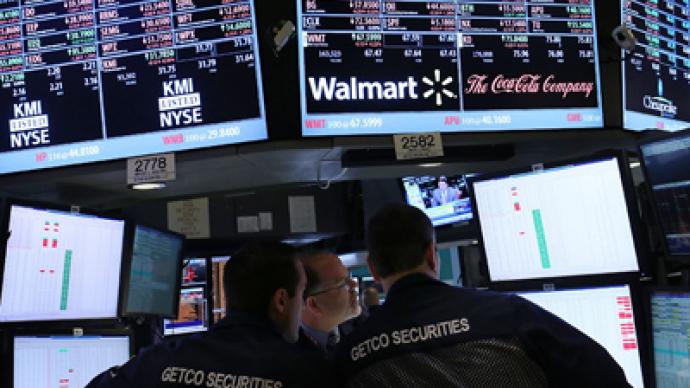 With the group of 20 leaders summit wrapped up in Mexico, investors around the world will be cautiously anticipating Wednesday's US Federal Reserve decision, hoping for more stimulus.
"The global markets will be trading with a tinge of caution ahead of the US Federal Reserve meeting tonight in anticipation of either good news or disappointment. Global investors are hoping to see the Fed trying to rejuvenate the US economy and boost investor confidence," says Aleksei Rybakov from investment group Trade-Portal.

Asian stocks were higher in afternoon trade on Wednesday, tracking Wall Street higher amid speculation the Federal Reserve will extend stimulus measures and after the G20 pledged to support economic growth and help overcome Europe's debt crisis.
Japan's Nikkei Stock Average added 0.8%, South Korea's Kospi gained 0.34%. In China, Hong Kong's Hang Seng Index rose 0.44% but the Shanghai Composite inched lower 0.13%.
US stocks were higher overnight with Standard & Poor's 500 Index peaking to its highest level in more than a month, as investors were encouraged by upbeat US housing data and speculated the Federal Reserve will announce more measures to stimulate the world's largest economy
The Dow Jones industrial average was up 0.87%. The Standard & Poor's 500 Index was higher 1.06% and the Nasdaq Composite Index gained 1.2%.
European stocks were higher on Tuesday as Greece moved closer to forming a government.
Slightly better-than-expected results from a Spanish debt auction drove a rally for stocks in the country and sent some relief through European markets.
Spain sold 3.04 billion euro ($3.8 billion) of debt on Tuesday, just over the 3 billion euro maximum set for the auction. Demand for the 12-month bills was 2.16 times the amount offered, compared with 1.84 times last month. The bid-to-cover ratio on 18-month securities rose to 4.42 from 3.23.
Spain's borrowing costs are still near their highest level since 1997 as investors worry the country will soon be forced to ask for international aid. However, the yield on 10-year government bonds fell just below the critical 7% level to 6.99%.On Thursday, Spain will try to sell between 1 billion and 2 billion euro of bonds with maturities in 2014, 2015 and 2017.
Investor optimism over Spain's debt auction overshadowed a bigger-than-forecast decline in German investor confidence, which fell to minus 16.9 from 10.8 in May.
The UK's consumer-price index rose 2.8% on the year in May, compared with expectations for it to remain at 3%, fueling hopes that the Bank of England will make the case for further monetary stimulus at its July 5 meeting.
The UK's FTSE 100 Index added 1.7%, while Germany's DAX increased 1.8% and France's CAC 40 advanced 1.7%.
"The markets have been tempered by the combination of a Spanish bailout and the desired result from the Greek elections last weekend, which have both led to a calming of volatility.  For now at least there seems to be a degree of certainty as regards the eurozone debt crisis,"
says Angus Campbell, head of market analysis, Capital Spreads.
The Russian markets made it into the black on Tuesday, tracking gains for global stocks and as the price of oil headed north in anticipation of positive signs coming out of the G20 summit. However, the MICEX failed to break the psychologically important threshold of 1,400 points, adding just a notch at the close – 0.1%. The RTS also showed minimum growth and went 0.1% higher.