Iced coffee heats up summer sales as consumer look to go cool
Published time: 28 Jul, 2011 11:12
Edited time: 28 Jul, 2011 16:37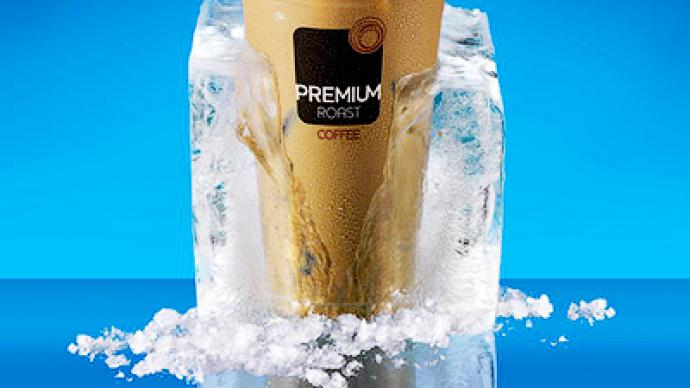 The scorching summer temperatures in Moscow for the second year running have hammered coffee sales with ice cold drinks powering cash registers instead, but cafes and vendors are responding with new menu items and canny placement.
­One particular Shokoladnitsa outlet near Frunzenskaya in Moscow averages between 80 and 100 cups of coffee per day over the autumn spring period, but for it, and other similar outlets across Moscow, the figures nosedive by as much as a third once the weather has warmed up, with  the 2010 heatwave, and soaring temperatures through late July 2011 forcing retailers to respond, according to Soyina Elena, Marketing Vice-President at Shokoladnitsa.  She says it is simply a matter of waiting for the weather to break before determining the likely impact on Full Year Coffee sales.
"Sales of Iced Coffee have increased during the summer. For September there are two possible scenarios: if we see continued hot weather conditions continuing then the sales of ice cold drinks and ice coffee will remain high. But if it cools, demand for coffee will bounce back quickly."

Tatiana Senkina, Shokoladnitsa café manager, says to stimulate coffee sales new drinks and desserts were added to the menu
"Our café was opened on the 4th of May and we were not expecting such a huge footfall in the first three months given that summer is naturally the lowest period for all cafes and restaurants. However, we realized that most of our clientele are students and white collar workers who work nearby and hang around for lunch or breakfast. We are experienced and well prepared for low summer period and know our clients tastes. So we have responded by adding new fresh fruit and cold soft drinks such as Ice Tea with raspberry, Basil Lemonade, blackberry lemonade and many others. This summer we introduced a season of Blackberries with favorite blackberry tastes in lemonades and frappes and blackberry stuffed pancakes. We are also offering 9 ice cold fruit drinks for take away for a special price"

According to BusinesStat research in 2014 the volume of coffee sales in Russia will reach 175 000 tonnes, with RBC Research reporting a 57% growth of coffee consumption from 55 000 tonnes in 2006 to 86 000 thousand tonnes in 2010.
Saeco Vending Group Russia is another noting the change in consumer preference during summer towards colder drinks, with vending machines a key market accessing office demand. Roman Feoktistov, Head of sales, at "Professionalnye & Torgovye Avtomaty" says coffee pricing includes covering for the low season consumption shortfall.
"We provide more than 300 coffee stations in Moscow.  As a whole sale company we offer vending machines and products for them, mainly hot beverage ingredients such as coffee, and tea. This business segment is highly dependent on season. Each summer sales revenues fall by 30% and this drop is compensated by the highest period of consumption from the end of August till late May.  However, the prices are fixed for almost 8 months already. The price of coffee depends on Euro because almost all coffee is processed there, and almost all of our coffee comes from Italy, which is known as the best quality processed coffee supplier" 

Igor Chizhov, Deputy Director, Saeco Vending says the consumption downturn can be offset by astute machine location, with offices likely to see coffee demand remain surprisingly strong.
"The average sales downturn is 10% but this depends on the location of the machine. We serve and load our machines once per day and some times during one week we need to load all sections as they are all empty while some times we need to add just a few items. During summer we add more soft cold drinks and snacks. In connection to coffee sales, I can say they are almost stable because most of our machines are located in the business centres where the consumption reaches 100 cups per day." 

For Senkina, managing her Shokoladnitsa outlet, promotional activities are vital, with stored based discounts, and continual menu changes a key to keeping the brand fresh and relevant to coffee drinkers.
"Prices differ on several items of menu from one café to another. For instance, 330 ml cup of cappuccino will cost you 209 roubles in our café while in other Shokoladnitsa cafes you can have your grand cappuccino for 199 roubles. However, the new pricing policy didn't affect our sales and in September we are expecting the next wave of increase in sales whereby in November a several new offers and menu items will be introduced."