HSBC and Standard Chartered to pay US over $2bn in charges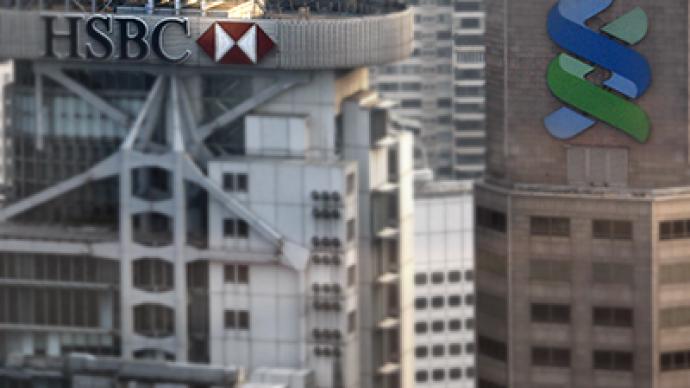 British banking giants have come under fire line from the US financial authorities. HSBC will pay a record $1.9bn to settle a money-laundering probe, with Standard Chartered getting a $327mn charge for violating US sanctions against Iran.
The fine against HSBC will include $1.25bn in forfeiture, as well as $655mn in civil penalties. In an attempt to cut costs and improve profitability, HSBC CEO Stuart Gulliver made the bank the matter for US probes and claims from UK clients. The lack of money-laundering controls at HSBC allowed terrorists and drug cartels access to the US financial system, according to Bloomberg.The bank accepts responsibility for "past mistakes" and is "profoundly sorry for them," Gulliver said.On Tuesday the Justice Department stated that HSBC intentionally allowed prohibited transactions with Iran, Libya, Sudan and Burma, that date between 2001 and 2006.   The federal government also accused the bank of facilitating transactions with Cuba, which was  in violation of the Trading With the Enemy Act.Another large British bank Standard Chartered – the second largest by market value – agreed on Monday to pay a total of $327mn in fines, as the regulators accused it of violating US sanctions against Iran and Sudan."When banks dodge US sanctions laws, they imperil our financial system and our national security," Bloomberg quotes Washington US Attorney Ronald Machen. "Today's [Monday] agreement holds Standard Chartered Bank accountable for intentionally manipulating transactions to remove references to Iran, Sudan, and other sanctioned entities, and then further concealing these transactions through misrepresentations to US regulators."Among other concerns for the US state prosecutors have been an investigation over alleged Libor interest rate manipulating, where HSBC is also among the accused. Libor is a key bank lending rate which affects different financial instruments and transactions worth more than $300trl worldwide.
You can share this story on social media: