'People are just being murdered': Fresh EU funds for Greece do little to stop misery
Greek streets thronged with disillusioned crowds, as some three thousand union members hit the streets, fed up with austerity measures just as the country secured a fresh rescue loan of 8.5 billion euro coupled with further spending cuts and unemployment.
Public sector workers in Athens have blocked roads, fearing new cuts could see many civil servants, including doctors and teachers out of a job. But the newest EU cash scheme is the only way the country can grapple with its huge $400 billion debt.
The International Monetary Fund (IMF), the European Commission (EC) and the European Central Bank (ECB) have just returned from a review mission to Greece and produced a report, which sees prospects for stabilization in the near future, with prior projections and targets being met, prices returning to normal and inflation considerably below the European average.
Such quarterly reports are there to determine whether Greece gets its rescue cash tranches.
The report concludes that an agreement on the new loan would be reviewed by the Eurogroup and the IMF in the weeks to come.
They agreed Greece was making progress on its commitment to keep the banking sector healthy - one of the conditions on the release of the funds, which were pushed back five months because of previous failures to do so.
"The mission and the authorities agreed that the economy is beginning to stabilize and is poised for a gradual resumption of growth," a statement by the three read.
Despite this, the level of capital in Greek banks is very low and non-performing loans are seen as an obstacle to getting them back on track.
Further to the proposed reforms, the Troika of lenders "are continuing their efforts to strengthen the social safety net to cushion the impact of the economic downturn," the report says.
"Notably, programs to hire youth and unemployed workers under programs financed by EU structural funds will be expanded, and a minimum income guarantee program is being launched on a pilot basis in two municipalities with the aim of rolling it out on a phased national basis in 2015," it continued.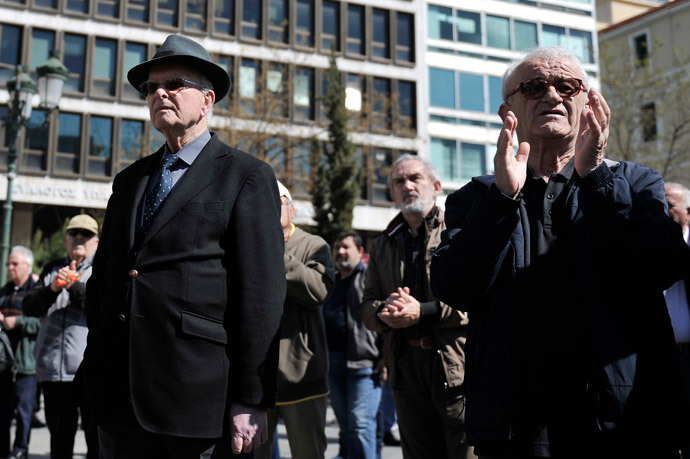 And now for the bad news
The above is of little consolation to the people out on the streets, who feel that the EU strategy has taken something bad and only made it worse.
The population is experiencing its sixth straight year of recession. Unemployment currently stands at a record 28 percent, and the under-25s experiencing the sharp end of it, with youth unemployment rates now at 60 percent.
A total of 1.38 million Greeks are unemployed. The banks aren't lending. Small and mid-size business closures are steadily rising.
Since this isn't the first time the country was hit by EU-imposed austerity, its economy continues to shrink; it has done so by25 percent in four years.
The optimistic tone of the report may well be true, but experts say the tiny 0.6 percent growth rate is negligible at a time when even 5 percent annual growth would still take the debt-stricken country 20 years to even start tackling unemployment.
Kostas Aggelidis, an impoverished Athenian pensioner whose sick friend died a little over a month ago is feeling completely hopeless and destitute. Austerity cuts have battered the Greek health system and people are often left with a choice of either dying of poverty and lack of government benefits and healthcare, or simply committing suicide.
"People without insurance today – they are like garbage. And what am I doing? Just waiting to follow my friend," he concluded.
But the country's population strives to hold each other up through various civil programs, including healthcare functioning on medical donations and specialists who give their time to attend those whose days would otherwise be numbered.
Giorgos Vichas, a cardiologist at one of those people-run clinics, believes the Troika's policies are "very unfair. This is inhumane, and all these policies and decisions imposed in Greece today, they have an impact on those who don't have insurance."
"But later they'll affect others too," Vichas says, drawing a grim picture of what's to come. "And at the end of the day, people are just being murdered." he concludes.
You can share this story on social media: