Greece: deeper in debt and default-bound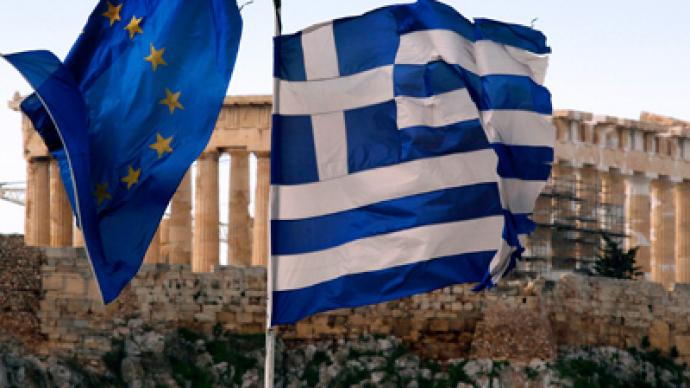 After weeks of rollercoaster talks, Athens is finally getting a second bailout package, yet investors have doubts that debt problems can be solved with more debt. Many say the €130 billion injection will only postpone the inevitable default.
The Greek economy is basically suffering a spike, which means nothing but a default can help the country, Igor Nikolaev from PKF told Business RT."Industrial production in December fell by another 14% year on year, with the construction sector shrinking about 51% in the same period," Nikolaev specified.The decision to allow Greece another lifeline simply buys extra time for the local banks to increase their capital and get better prepared for yet another wave of the debt crisis, Nikolaev explained. The "policy of a manageable default", which the Europeans are currently introducing may be comforting as a notion, but in fact it'll merely smooth the pain temporarily.The euro was doing up and down motions after the decision was announced. Shortly after the news broke, the currency gained around 0.7% to reach $1.3293 in the Asian trading session, with the exchange rate, however, falling back to $1.3250 early in the European session. And the Central Bank of Russia fixed a higher euro exchange rate to the rouble for February 22, up 19.25 kopecks to reach 39.5235 roubles."European leaders are basically driven by the idea of a common currency area and by faith in it," Nikolaev explained. "There is no real background for optimism."And Aleksey Matrosov, head of the analytical department at Broco brokerage company, thinks the result isn't worth the effort."One could avoid a collapse of the Greek economy, but the funds spent to help Greece exceed the costs Greece would bear should it default," he said.Indeed, a Greek default would be beneficial for everybody long-term, no matter how painful it could be at the start, Nikolaev says."Cheapening the Greek drachma will support the country's exporters. Meanwhile, the eurozone will start breathing easier, after it gets rid of the heavy Greek burden. And Russia, simply being a part of the global economy, will also gain," the PKF expert explained.Earlier on Tuesday morning the announcement came from Europe that its finance ministers had agreed to provide another €130 billion bailout for Greece. Private creditors also agreed to broaden their help, saying they'll write off 53.5% of Greek debt, that's compared with a previous figure of 50%. The latter will provide additional relief of about €100 billion to indebted Athens.
Read related column here
You can share this story on social media: