Greek diet needs more ingredients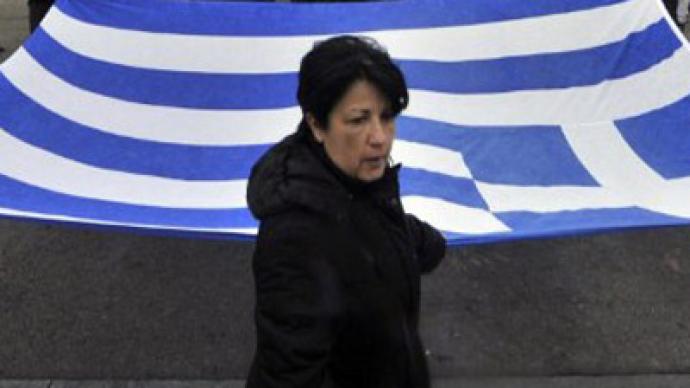 A final decision on the long awaited second lifeline for Greece has been put off till next week. Eurozone finance ministers are asking for an extra €325 million of savings in 2012. This has caused concern to investors and driven down Russian indices.
Both the RTS and the MICEX finished Friday's session in the red, down 2.13% and 1.07% respectively. Germany's DAX also lost 1.5%, with American indices going down an average of 1%.That's after Jean-Claude Juncker, the chairman of the Eurogroup said they wouldn't give out more money to Greece till its MPs pass the package of cuts and reforms on Sunday, as well as guarantee they'll back the measures after the elections, which are scheduled for April. The country also needs to provide an additional €325 million in "structural expenditure reductions" by Wednesday, Juncker added. If those conditions are met, Eurozone finance ministers could give the green light to a bond-swap deal with private creditors to cut Greece's debt by some €100 billion at their next meeting on Wednesday, he added.Earlier the leaders of the three most influential Greek parties finally agreed to tighten their belt and cut their budget expenses. A "budget diet" includes a 22% cut on the minimum wage, which will go down to €600 per month, as well as an annual cut of €3 billion on other government expenses. On top of that, the state sector will have around 150,000 fewer jobs by 2015. In the aftermath, it will cost the Greek economy around 1.5% of its GDP a year, with the economy going even lower in 2012 than previously expected, down to minus 4.5%.Should Greece fail to receive the much-needed €130 billion package from the "troika" – the European Union, the International Monetary Fund and the European Central Bank – and default, the rest of the world will also suffer."Germany will lose in confidence and in finance around $12.5 billion, France will kiss good bye to $10.7 billion, Great Britain will forever forget about $3.25 billion, and the USA about $2.3 billion," calculates Anna Bodrova of Investcafe.
You can share this story on social media: