Greek pain to stay despite rescue package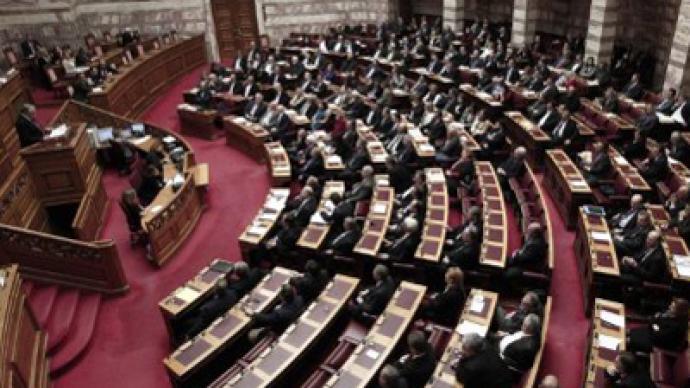 Greece is a step closer to getting another rescue package from its international creditors. Russian experts say the package will just sooth the pain without curing the disease.
The Greek parliament has approved tough austerity measures ordered by the "troika" in return for a €130 billion bailout. Both the Euro and the Dollar have gained on the news, which is not seen as a reason for fundamental joy. "The problem of a default hasn't been decided yet – it's been just put off to another time," Anna Bodrova of Investcafe explains.Now the European Union, the International Monetary Fund together with the European Central Bank will have a final say on Wednesday this week.Anyway, the Euro zone member states will need to agree on some issues domestically as well, after the "troika" comes to a decision. Germany, the largest economy among 17 Eurozone member states as well as the biggest "sponsor" to the rescue package, plans a special meeting of Bundestag in two weeks time. The country itself has taken a tougher stance, asking for particular steps to be realized. "We don't need promises anymore," said Wolfgang Schauble, German Finance Minister, in an interview to a German paper Welt am Sonntag.Time is running out for a signed sealed and delivered agreement with Greece's creditors. The country has bond obligations coming due, and needs to swap them by March 20 to cut the state debt by €100 billion. This will pave the way for a programme to restructure its €14.5 billion obligations maturing on the same date.Also, Greece needs to receive almost €80 billion tranche from the EU and the IMF before March 20. This is to help the local banks, which will suffer from a write off of the sovereign debt they are currently holding. The package, including massive jobs cuts in the state sector, as well as a reduction in the minimum wage, will cost the Greek economy around €3.3 billion, or 1.5% of its GDP. And the estimates of the GDP fall in 2012 are becoming gloomier, from around a 4% fall to about 6.5%.
You can share this story on social media: