Germany blocks modifications to strict Greek austerity program
Published time: 19 Aug, 2012 19:09
Edited time: 19 Aug, 2012 23:09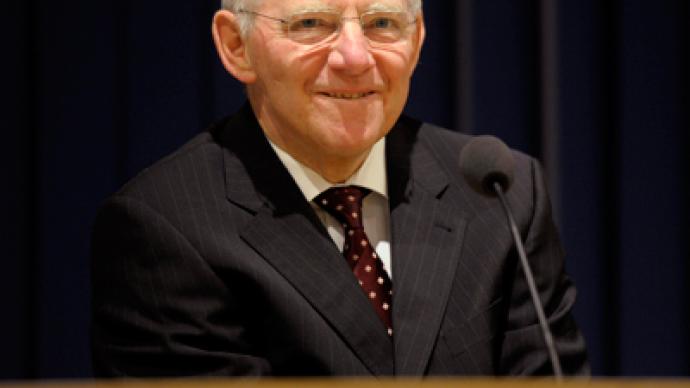 German ministers have told Greece that it will not be allowed an updated and more lenient austerity plan, and must fulfill the promises dictated by its current deal.
­"It can't be helped. We can't make yet another new program. There are limits," Finance Minister Wolfgang Schäuble told visitors at his ministry's open day in Berlin.
His views were supported hours later by the parliamentary head of Chancellor Angela Merkel's Christian Democratic Union, Volker Kauder.
"There is no room for maneuver, either in terms of time or substance. That would be yet another agreement broken. That's exactly what led us to the crisis," Kauder told Der Spiegel.
Their comments come just days before Merkel and Greek Prime Minister Antonis Samaras are set to hold talks in Berlin.
According to The Financial Times, Samaras plans to discuss extending the deadline for Athens to meet its budget cuts by an extra two years.
But Germany has so far insisted that Greece must stick to the agreed-upon timeline if it wants to continue to qualify for European aid.
Greece is struggling to target another €11.5 billion of its budget to be cut in 2013 and 2014 under the current bailout deal, which was set up by the European Union and International Monetary Fund.
Trimming the country's expenditures is a precondition set by international creditors in order for Greece to receive its next installment of financial aid.
Greece's Finance Minister feels the country has no choice but to face the challenge.
"We have to stay alive and remain under the umbrella of the euro, because that is the only choice that can protect us from a poverty that we have not experienced," Yannis Stournaras told the the Vima tis Kyriakis weekly.
"If we don't take the measures … then our stay in the euro is threatened," Stournaras said.
Troika auditors are due to release a report next month, assessing Greece's progress in achieving the austerity demands.
The report is expected to call for Athens to cut €14 billion from its budget over the next two years. That's €2.5 billion more than originally demanded.
Greece's current rescue deal, worth €130 billion, is believed to be crucial in preventing Athens from defaulting on the euro – a move that could have grim consequences for the global economy.
The new plan was approved last February, and resulted in the majority of Greece's private creditors writing off more than half of Athens' debts and replacing existing loans with loans at lower interest rates.
In exchange for these loans, Greece set out on an austerity drive which included drastic cuts to public services, tax rises, and pension reductions.
But the cuts have had a crippling effect on the country's economy, causing Athens to rely on aid in order to pay back its loans – prompting many financial experts to question whether the rescue plan will actually be enough to save Greece.