VTB Capital to start issuing 'golden bonds'
Published time: 16 Nov, 2012 14:21
Edited time: 16 Nov, 2012 18:21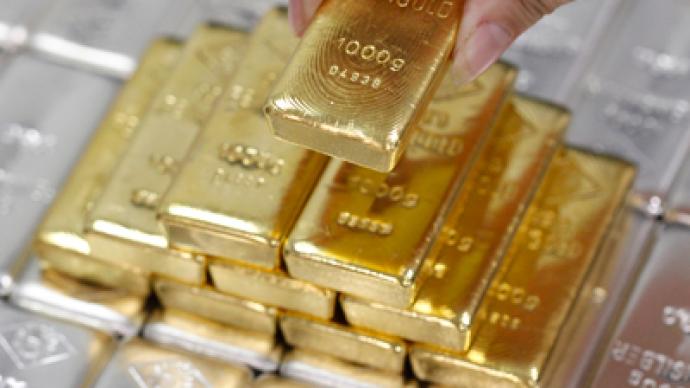 Investment arm of Russia's second largest bank – VTB Capital – will start issuing bonds tied to gold price. The new instrument enters Russia just when global downturn makes gold increasingly attractive.
­The new so–called 'gold bonds' provide for 3 fixed coupons – 0.1% each – with the yield to maturity depending on the gold price dynamics, Vedomosti daily reports. The Gold price on November 26 – the day when the placement is set to kick off – will be taken as the base to calculate gold growth. Overall, the new bonds can create up to annualized 21.3% yield for investors.

Such "an unusual instrument will be popular among the players who seek for less risky financial instruments in times of world economic instability," Ekaterina Kondrashova of Investcafe says.
Given a conservative forecast for gold prices, VTB Capital bonds should produce yields of about 5.1% in annual terms, Elena Fedotkova, a Nomos – Bank analyst, calculates.

While the ongoing economic crisis undermines credibility of the major world currencies, gold is gaining momentum.  Gold added 10.8% during the last 6 months to trade at about $1,700 per ounce, according to data at goldprice.org. At the moment the forecasts are quite positive: optimistic estimates say it can go above $ 2,000 per ounce, Fedotkova said.
In 3Q 2012 global gold demand stood at 1,084.6 tonnes (call), which is above the five year quarterly average of 984.7t, the World Gold Council reported Friday.

"Gold is beginning to re-establish itself as part of the fabric of the financial system," commented Marcus Grubb, Managing Director, Investment at the World Gold Council.
"In the medium term, the quantitative easing initiatives in the West and the continuing growth story in the East, particularly in India and China, coupled with the seasonally strong quarter coming up in Asia, are excellent indicators for further growth in the gold market," Grubb added.
"Such bonds will be interesting to those who expect both inflation and global risks to grow next year," Timur Salikov, investment director at Promsvyaz asset management, told Vedomosti.
On Friday, gold-miner Nordgold provided more firm evidence of gold being an attractive asset. The company increased its IFRS net profit 32% year on year in 3Q 2012 to reach $58mn, while  a consensus forecast had expected the bottom line to stand at $56nm.
Nordgold operates in Burkina Faso, Guinea, Kazakhstan and Russia.