ECB study shows German households poorer than Cyprus'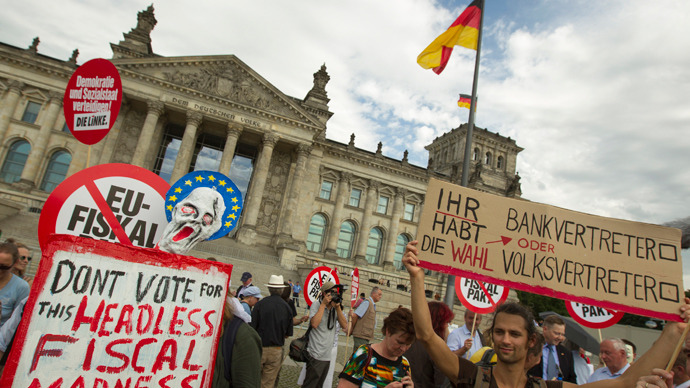 The poorest households in Eurozone are in Germany, whereas households in Luxembourg and debt burdened Cyprus top the list as the wealthiest, according to the ECB study. The data gathered in 2008-2010 may not however reflect the current situation.
The European Central Bank's survey sparked debate on how much EU taxpayers' money should be directed to help troubled economies in the Eurozone. 
The study released on Tuesday spans 15 member states and looked at the median net wealth of 62,000 households. Most of the data was gathered in 2009-2010, while some data refers to 2008, right after the global credit crunch, thus the figures may not be currently accurate.
"It should be kept in mind that the survey focuses on one particular type of wealth, i.e. wealth of private households," says the report.
The report should be looked at having in mind that rates of homeownership, living standards and infrastructure along with many other factors differ widely across the EU member states considered in the survey.
For example in 2008 house prices in Spain were significantly higher than they are now, Christoph Schröder from the Institute of the German Economy in Cologne told Spiegel Online.
"The data for Cyprus appear not to be comparable with those for other euro area countries in a number of dimensions and should therefore be interpreted with caution," says the report.
Still the report shows that for household wealth some Eurozone states that suffered the most impact from Europe's debt crisis look better than one might think.
It's for example it is more common in southern European countries for people to own their homes and run a small business, whereas in Germany people are more likely to rent property and work for an employer. The report shows that fewer than half of Germans and Austrians own their homes. 
"The low home ownership rate in Germany is in part due to the construction of social housing after World War II and in part due to taxation of owner-occupied housing and the lack of tax deductibility of interest payments on mortgages," the report indicates.
With the differences in mind the report shows that the median net wealth of German households comes out to around €50,000 while in Greece the figure is above €100,000, In France it is around €110,000, and in Spain around €180,700. Cyprus is second wealthiest with €265,000 while Luxembourg tops the list with almost €400,000.
This report became the first of a kind study by ECB to compile wealth data for 17-member eurozone.
You can share this story on social media: