Gazprom says NO to private companies in Russia's shelf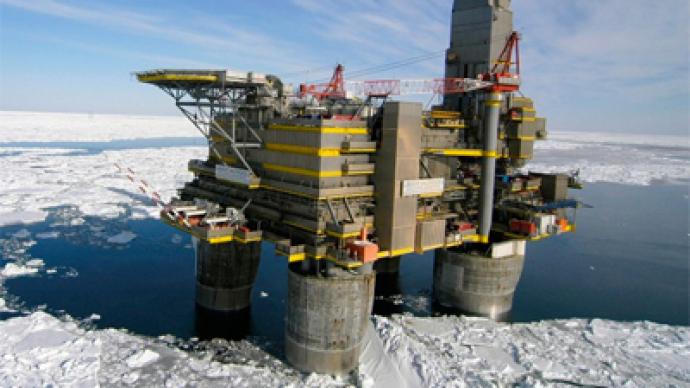 The Russian gas monopoly is determined not to allow private companies access to the shelf, where potential resources are greater than the rest of the country. "We'll continue to work there and won't give it to anybody" says Gazprom boss.
Under Russia's Subsoil legislation adopted in 2008 just a handful of state controlled companies have access to Russia's shelf, with private companies struggling to get a foothold. The potential resources of the area are estimated at 76bn tones of standard fuel, while discovered stock in the entire Russia stands at 10bn tones.There was an attempt to find a consensus at a Tuesday meeting of PM Dmitry Medvedev, where Sergey Donskoy, Russia's Minister for Natural Resources offered to retain a priority for state companies in the shelf, at the same time allowing a chance for private ones. Under the plan, private players may get a license for geological exploration without a bid, but in case they find a huge deposit they will need to allow an option to explore 50% + 1 share of it to a state company. The Ministry also offered to lift shelf limitations on the development of the areas where state companies had refused to operate, letting private companies in as they would do on land.However, Gazprom boss Alexey Miller was unshakeable, stating openly he wouldn't give up even the least interesting areas."There is no answer to the question why access by private companies to gas resources in the shelf is necessary. We'll continue to work there and won't give it to anybody," Vedomosti daily quotes Gazprom officials quoting company boss Aleksey Miller.The gas monopoly is due to receive a license to develop 17 fields in the shelf out of the total 29, according to Deputy PM Arkady Dvorkovich.Analysts agree that Gazprom should be afraid of competition in export markets from private companies. "In case of deliveries to Europe this shelf gas will surely compete with pipe exports by the gas monopoly, which Gazprom will naturally dislike," Andrey Tolstousov, asset manager at Grandis Capital told Vedomosti daily. On top of that, huge deposits could be used to access foreign markets on a share swap basis, the way Rosneft did it, added Andrey Polishyuk, an analyst at Raiffeisenbank.Head of Rosneft Igor Sechin, who used to be another strong opponent of letting private companies onto Russia's shelf has now changed his tone. "Different options are being discussed. Since a Government decision is taken and confirmed, we'll be acting according to it," Sechin said. The most likely reason why the Rosneft chief changed his mind seems to be the company's current tight finances, which means co-investors in shelf development would be more than welcome. Now Russia's oil major is involved in the so – called"deal of the century" to buy out the Russian – British oil consortium TNK-BP for an estimated $55 bn, where $45 bn is needed to be raised in cash, and the remainder is expected to comefrom the sale of 12.84% of Rosneft treasury notes.Meanwhile, Russian authorities are considering idea to end the Gazprom export monopoly and allow independent energy firms to sell LNG abroad. The country's Ministry of Energy, Ministry of Economy, Ministry of Natural Resources and the Federal Anti-Monopoly Service (FAS) reportedly backed the proposal by independent gas producer Novatek to abolish the gas export monopoly last December.
You can share this story on social media: