Pressured press: Forbes up for sale, expects $400mn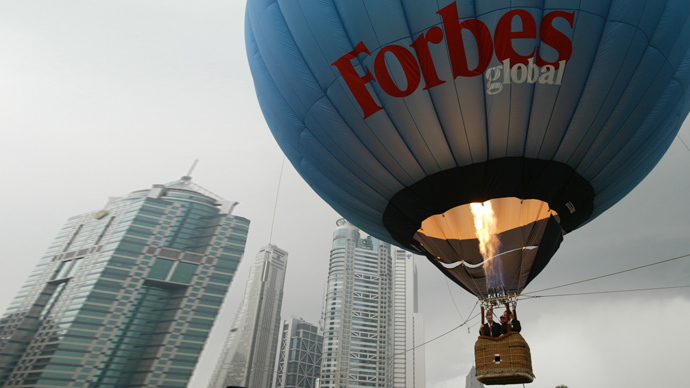 Forbes Media says the 96 year old family-owned magazine is up for sale. The deal follows a broader trend of publishers selling struggling print media brands that have failed to stay afloat in the 'digital era'.
President and CEO Mike Perlis sent out an internal company letter on Sunday saying "we're organizing a process to test the waters regarding a sale of Forbes Media." The note also said the media outlet has hired Deutsche Bank to broker the sale and there are already a number of interested buyers.

Forbes is hoping to raise at least $400 million, but half of that sum looks much more realistic, Bloomberg says citing its sources.
In 2004, the family received a $400 million buyout offer from fashion publisher Conde Nast Inc., but little is known about  the identity of the future "numerous suitors."

The profit dipping trophy bi-weekly investment magazine has been in print since 1917 and is famous for its 'World's Richest' lists and brands itself as America's "leading business magazine".
Weekly circulation is more than 930,000.

The family operated magazine was founded by B.C. Forbes and later, his son, Malcolm Forbes, published the weekly. Malcolm was well-known for his lavish spending- hot air balloons, Faberge eggs, Victorian art, real-estate in Colorado and Normandy and a motorcycle collection were among a few of the prized possessions that were later sold off.
Print on sale
The Boston Globe, The Washington Post, and Newsweek changed hands in August 2013. Shortly after this wave of sales rumors started circulating that The New York Times was also up for sale, which the paper denied.

Amazon founder and CEO Jeff Bezos bought the Washington Post, also family-owned for decades, for $250 million. Boston Red Sox owner John Henry picked up the Boston Globe for $70 million. Both prices were thought to be under valuations, demonstrating in the print news industry it's a buyers, not a seller market.

Businessweek, founded in 1929, was sold to Bloomberg LP in 2009, and Maxim, a men's health journal, was sold to Darden Media Group in September 2013.

Digital era
The rise of the digital era has killed print ad sales, which before were a main source of revenue for media outlets like The New York Times, The Washington Post, and Forbes.

Print ads have fallen 34 percent since 2008, and advertising sales in 2012 were $275 million.

In recent years, Forbes has been making a concerted effort to take steps away from its print publication and ramp up efforts on its digit projects.

Its online edition has grown tremendously, from about 12 million unique monthly visitors in 2010 up to 26 million, according to data from ComScore.

Forbes has been pushing its international sales and has expanded online content across Asia, Europe, and Latin America. Digital advertising accounts for 55 percent of total advertising revenue. A recent PricewaterhouseCoopers report predicts online spending will more than double to $5.9 billion in 2017, up from $2.3 billion in 2012.

In an interview with The New York Times this week, a Forbes spokesperson projected online advertising revenue would increase by 35 percent through 2013.

You can share this story on social media: