London's first 'green' electric taxis take off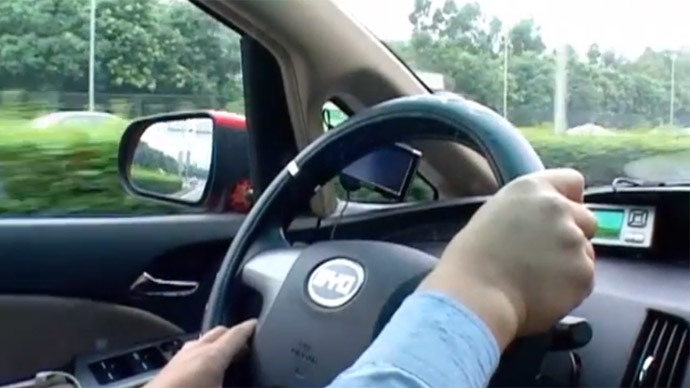 London's first fleet of electric powered mini-cabs has hit the streets. Twenty vehicles built by China's BYD will be available for private hire.
BYD is partly backed by Warren Buffett's Berkshire Hathaway group.
London's first fleet of electric taxis comes into operation four years ahead of the 2018 deadline Mayor Boris Johnson set for all new cabs to have zero emissions. Aimed at reducing pollution the Mayor's office says taxis account for around a third of all the exhaust emissions in London.
The decision has created competition among manufacturers including BYD, Nissan, Metrocab, and the London Taxi Company to have electric models ready.
The Chinese manufacturer BYD, which is 9.9 percent owned by the investment titan Warren Buffett, has provided the 20 e6 electric model taxis, less than two months after supplying the first electric buses to London.
"Londoners are typically early adopters to new technology . . . and we are very happy to be first and beat the deadline by a few years. This is where the electric vehicle technology will shine," Isbrand Ho, Managing Director of BYD Europe told the Financial Times.
The BYD e6 model is a five-seat crossover vehicle, fitted with a 75kW motor and lithium-ion batteries. The vehicle has a top speed of 87mph (140km/h), and a maximum range of around 186 miles (300 km).
The mini-cab company will have charging points provided by British Gas, which is installing a city-wide network.
The cost of a 1kWh charge is around $0.16, providing a range of 200 miles (320 km), a full day's travel will therefore cost between $8 and $14, depending what time of the day the car is recharged, says Arvind Vij, the founder of Thriev mini-cabs.
If the experiment is a success a further 50 cars are expected to be added in July, after BYD signed a memorandum of understanding to supply to another minicab firm - Green Tomato Cars.
London Mayor Boris Johnson wants the current fleet of 22,000 diesel-powered black cabs replaced with new electric vehicles and petrol range-extender designs.
You can share this story on social media: