Strong steel demand sees Evraz post $263 million 1H 2011 net profit
Published time: 12 Oct, 2011 08:54
Edited time: 12 Oct, 2011 12:54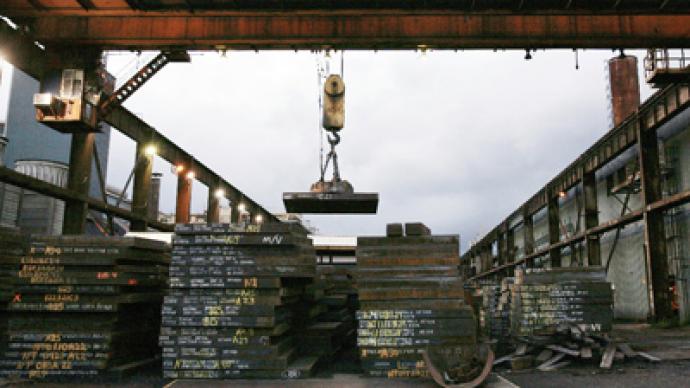 Russian steelmaker, Evraz, has posted a 1H 2011 net profit of $263 million under IFRS.
Evraz said the result reflected rising steel prices and production volumes against a backdrop recovering global steel demand, and an 82% increase in mining segment revenues.Evraz CEO Alexander Frolov noted that Russian demand had strengthened on the back of private construction and government infrastructure projects.
"EVRAZ has delivered a strong performance in the first half of 2011 on the back of the continuation of a measured recovery in the global steel markets. The prices for steelmaking raw materials grew faster than the steel prices, allowing EVRAZ to benefit from its high level of vertical integration. We maintained full utilisation of our steelmaking capacity in Russia and high levels of utilisation of our major international plants in North America, Europe and South Africa.
"Demand in Russia was driven by the continued increase in private sector construction activity as well as Russian government-financed infrastructure projects. In 1H 2011 steel sales to the CIS increased to a record high 68% of EVRAZ's Russian and Ukrainian mills' steel sales compared to 53% in 1H 2010, reflecting improving demand on this market and the increase in share of value added products in the product mix."
Evraz CFO Giacomo Baizini noted that the net result would have been much stronger without the company incurring a $231 million book loss through conversion and early repurchase of debt, which resulted in a stronger underlying financial position reflected in recent credit ratings upgrades.
"Net profit in 1H 2011 was negatively affected by one-off items. Without one-off losses of US$231 million relating to the conversion and early repurchase of debts our 1H 2011 net profit would have been US$494 million."
"Refinancing of short-term debt using debt instruments with longer-term maturities remains our financial management strategy. In April of this year we repurchased US$622 million of the 2013 eurobonds and issued a new US$850 million 7-year eurobond at an interest rate of 6.75%. We also continued to take advantage of the rouble bond market with a further RUB 20 billion issue, which was then swapped into US dollars at very attractive rates."