'The danger of the eurozone's split is over'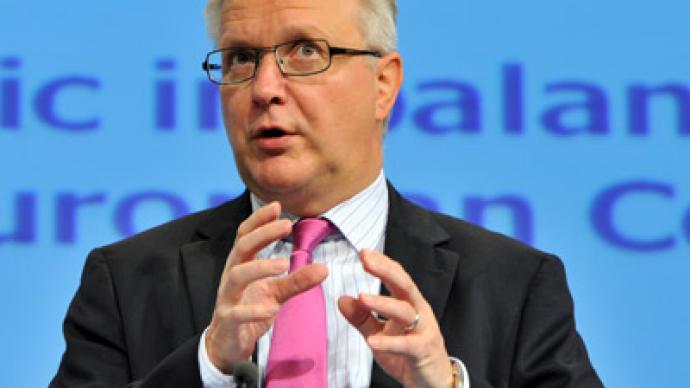 The eurozone is unlikely to split anytime soon, but the countries should push forward structural reforms to bring the region's economy back on track, says EU Commissioner Olli Rehn.
"The danger of the eurozone's split is over," European Commissioner for Economic and Monetary Affairs Olli Rehn told Germany's Tageszeitung. "But we shouldn't be off guard". He stressed the eurozone should continue its austerity policy. "Achieving economic growth is our major concern, so we must implement structural reforms to ensure it," he said. "Fiscal consolidation should be implemented at the early momentum".Many experts, even euro-skeptics, agree the situation in the debt-troubled member countries is now under better control. "The risks facing the eurozone have been reduced since the summer," Nouriel Roubini, a professor at NYU's Stern School of Business wrote in an article for Project Syndicate in December. The European Central Bank's "outright monetary transactions" program was very effective, bringing interest-rate yields for Spain and Italy down by 250 points, Roubini explained.But most important, Germany's attitude toward the eurozone has changed, Roubini wrote. "German officials now understand that, given extensive trade and financial links, a disorderly eurozone hurts not just the periphery but the core. They have stopped making public statements about a possible Greek exit, and just supported a third bailout package for the country"However, experts warn that the risks for the currency union still exist and could it fail in the near future, despite all the efforts. "2013 may not be the year the eurozone falls apart completely – but within the next 5-8 years, I see a serious and complete retrenching of the "have" economies versus the "have-nots" in the region, which results in a "re-imagining" of the eurozone," economic expert Margaret Bogenrief from ACM Partners told RT.  "I don't just see Greece, Italy, and Spain leaving the Euro – but also Portugal and Ireland.  In short, one country "leaves," and the dam will be "broken".So far the indebted member countries are determined to continue harsh austerity reforms throughout 2013 in effort to return their debt to sustainable levels.
You can share this story on social media: