Euroarea back into recession, despite the effort of its powerhouses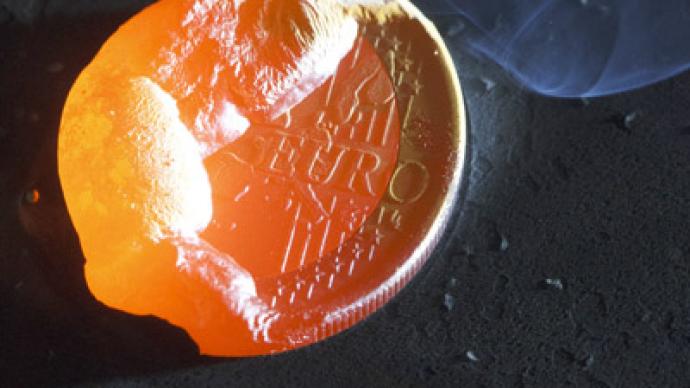 The 17-country eurozone has fallen back into recession for the first time in 3 years, All the effort from the region's powerhouses - Germany and France - was nullified by weakness elsewhere.
­The GDP of the single currency area was down 0.1%  quarter on quarter in 3Q 2012, which followed a 0.2% GDP decline registered for an April – June period,  as Eurostat, the EU's statistics office, reported Thursday."We can dispense with the euphemisms and equivocation, and openly proclaim that the euro area economy is indeed in technical recession," said James Ashley, senior European economist at RBC Capital Markets. Technical recession is commonly understood to be when an economy registers two straight quarters of declines. The area could't avoid contraction despite key economies Germany and France adding 0.2% each. Perhaps the most dramatic decline among the Eurozone members was seen in the Netherlands, whose economy shrank 1.1% on the previous quarter. Greece, Span, Italy, Portugal and Cyprus remained heavy drags on the bloc's economy. Fighting to remain solvent, the countries have imposed austerity measures, making sharp cuts to public services while simultaneously raising taxes.  With surveys pointing to increasingly depressed conditions across the Eurozone at a time of high unemployment in many countries, there are fears the recession will deepen and make the debt crisis even more difficult to handle. The wider 27-nation EU, which includes non-euro countries, avoided recession. It saw growth of 0.1% during the same period, which came mostly from an Olympics-related boost in Britain, which saw a 1% rise through July to September.The Eurozone recession poses a threat to the rest of the world, as any fall-off  in  demand will hit the order books of its trading partners.  For Russia, the Eurozone is its biggest trading partner, but so far revenues from energy sales have remained relatively stable. Despite falling sharply in 3Q 2012 Russia's GDP growth rate remained positive during the period– at 2.9%, compared to 4% in the 2Q, according to estimates by Russia's Statistic Service.At the moment the Eurozone, with its 332 million population, is the US's main export customer. It is also a major source of sales for the world's leading companies. Forty percent of McDonald's global revenue comes from Europe – more than it generates in the US.