EU approves multibillion-euro Cyprus rescue package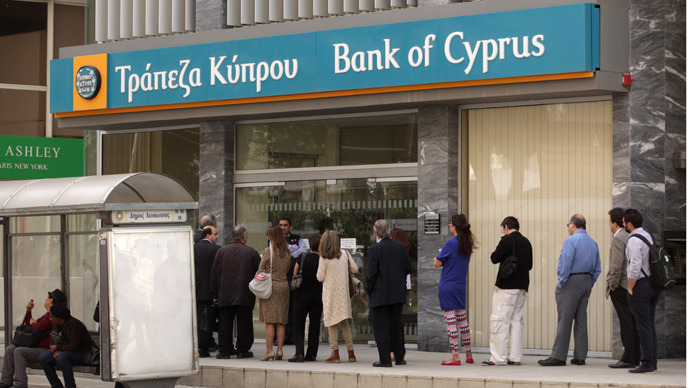 The EU has reportedly approved a multibillion-euro bailout for Cyprus in a bid to save the country's collapsing economy.
The finalized rescue program for Cyprus adopted in Dublin on Friday makes no significant changes to the proposed draft, AFP reported. According to EU finance ministers who gathered in Dublin on Friday, it will go ahead once cleared by national parliaments.

According to the draft, the International Monetary Fund will provide €1 billion, the eurozone will pay €9 billion, and the island itself will generate €13 billion. It became known on Thursday that the initially estimated €17.5 billion for putting the Cypriot economy back on track has grown to €23 billion.

The first tranche to Nicosia is expected to be disbursed in mid-May.
Cyprus is in a panic over its need for an extra €6 billion for its bailout. While the sale of the country's gold reserves may still be a possibility, Cypriot President Nicos Anastasiades said he would ask EU leaders for extra money, though Germany has vowed that the amount of the rescue package will not be renegotiated.
"The international credit program of about €10 billion is of course very high in relation to size of the Cypriot economy," German government spokesperson Steffen Seibert said, as quoted by Reuters.

Speculation remains over whether the country could pay its way out of the crisis by selling the majority of its gold reserves – 10.36 tons of gold out of the country's 13.9 tons in total gold reserves.
A Cypriot government spokesman confirmed on Thursday that one fundraising option being considered was the sale of some of the country's gold reserves.
"The Cypriot government put various options forward, including this," Christos Stylianides told the press.

S&P upgrades Cyprus credit rating to 'stable'
Despite the news of a €6 billion gap in the Cyprus bailout program, Standard & Poor's Ratings Services has changed the outlook for Cyprus from 'negative' to 'stable.'

"The outlook revision reflects our expectation that the Cypriot government will agree to the terms of an up to €10 billion ESM-IMF financial assistance program, and that the program's first loan tranche will be disbursed in time for the government to make a June 4 payment due on a Eurobond," S&P said, according to RIA Novosti.

S&P also expects Cyprus to remain part of the eurozone, despite the recession.

According to the EU-IMF plan, Cyprus will need to restructure its banking sector with its largest bank, Bank of Cyprus, absorbing the island's second-largest Laiki Bank. Cypriot authorities also agreed that all bondholders, investors and savers with over €100,000 in country's two biggest banks would lose up to 60 percent of their deposits under the bailout's terms.
Nicosia is expected to receive a further €600 million over three years from raising the corporate income tax rate and the capital gains tax rate.

You can share this story on social media: