IMF report: Job half done, so no time for complacency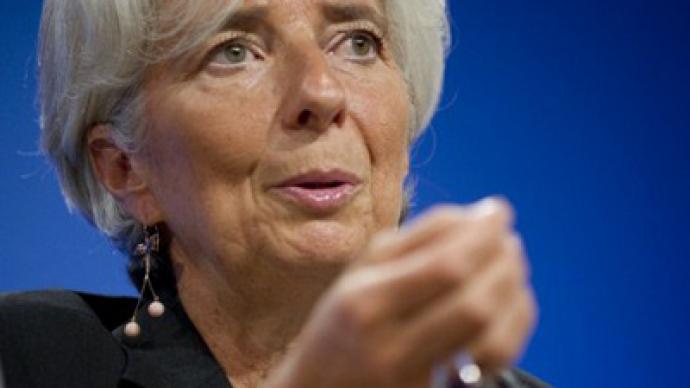 At the start of the IMF/World Bank spring meeting IMF Head Christine Lagarde was not in a spring mood talking on European finances. She says Europe is still the "epicentre" of downside risk and officials should keep up the pace of reform.
After giving euro zone officials a bit of a "verbal spanking" Lagarde defended the euro zone's recent reforms, saying she appreciates ministers' efforts to improve its firewall. This comes a month after Europe seemed hopeful following the bailout of Greece prompting many politicians to say that the crisis is over.The latest IMF's Global Financial Stability Review, released on Wednesday, says despite stronger fiscal policies in Italy and Spain, private debt restructuring in Greece and the European Central Bank's lending, the threat to global growth and financial stability remains. The European Central Bank's roughly €1 trillion of emergency loans caused interest rates of troubled euro-zone countries to plummet earlier this year, easing fears about Europe's debt crisis. But recently the rates have again been marching higher. The IMF report puts emphasis on the European Central Bank's LTRO programme of $1.31 trillion in emergency loans which forced down interest rates. However, the recent jump in Spain's' 10-year bond yields shows that banks which took over €200 bln in ECB loans are running out of money to keep buying state debt. The interest rates on the Italian bonds will rise to 5.3% by 2016 if current yields are maintained, the IMF reports. On Thursday Spain managed to sell its 10 year treasury bonds for €1,425 bln while the yield slightly increased to 5,743% from 5,403% in the previous auction. The yield for Spanish bonds maturing in 2014 dropped 3,463% from 3,495%. Higher yields for government bonds indicate less investor confidence in a country's finances.Earlier this week the IMF improved its outlook for global growth to 3.5% from 3.3% in 2012, while in 2013 the world GDP is expected to grow by 4.1%. The new IMF report is also warning that the risk would even increase if the euro zone policies fell short of what had been earlier agreed. European banks are still under pressure from weak growth and high debt repayments. In order to strengthen balance sheets, banks will have to reduce assets and increase capital. Any further financial stress could cause a large scale deleveraging by European banks which would hit credit supply and economic activity in Europe. In the basic scenario, the IMF sees combined balance sheets of the 58 biggest European banks shrinking by $2.6 trillion which is almost 7% of their assets. In the worst case scenario, the financial institutions could be forced to sell $3.8 trillion in assets and the euro zone GDP contract by 1.4% in two years.  According to the IMF, "countries should continue to reduce government deficits while supporting growth" and this "can be done through accommodative monetary policy".The report outlines two long term priorities: develop and commit to a roadmap for a euro area financial stability framework and implement stronger oversight over fiscal policy. The ultimate goal for policy makers is to ensure that banks keep lending to businesses and individuals while complying with the regulatory framework. The risks to growth are not confined to the euro zone alone, as high fiscal deficits in Japan and the US do pose a threat to the global financial stability. Emerging economies will also have to cope with economic troubles from the European debt crisis.However, in the US, where the companies' reporting season is in the full swing, the results of two thirds of businesses exceed analysts' expectations. So, the recipe for the EU economy to stay shock free is to stick to the rules agreed upon earlier.
You can share this story on social media: