Vagueness of EU future could hit UK economy – Deputy PM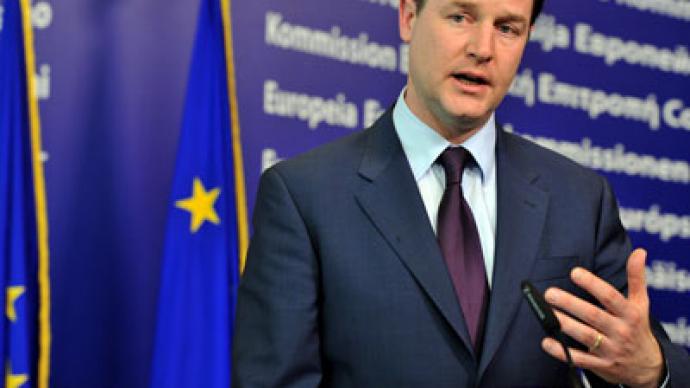 Uncertainty around the future of economic ties between Britain and the EU could scare investors away from the country, as well as create higher unemployment, is concerning Deputy Prime Minister Nick Clegg.
The EU is now re-thinking its treaty seeking to gain further integration of eurozone countries. On Friday Prime Minister David Cameron, a Conservative, is set to out his aim for Britain and the EU and possibly reshape ties with the bloc, as Reuters reports.While the UK wants to take advantage of possible changes, it remains a question whether they will have much to do with Britain, according to Clegg, who leads the Liberal Democrats, the Conservatives' junior coalition partner. This creates unhealthy uncertainty over the British economy, that could damage its business profile and real environment, Clegg warns."The eurozone is changing, that is obvious. We do not know when that will manifest itself in a new treaty, and we don't know if there is a new treaty. Some significant states in the eurozone do not want any treaty change at all," Reuters quotes Clegg as saying on BBC radio."We should be very careful at a time when the British economy is still haltingly recovering from the worst economic shock in a generation to create a very high degree and prolonged period of uncertainty, because in my view uncertainty is the enemy of growth and jobs," he added.UK membership in the EU has become a point of heated debate between various politicians, with about a half of the country's population believing that the crisis provided an ideal opportunity for the UK to leave the bloc. David Cameron leads a predominantly euro-sceptic Conservative Party, where many of its members are insisting to hold a referendum on the destiny of UK's membership in the union, or a so-called 'in-out vote,' which Cameron doesn't support.However, a split up of business ties that have been developing for 54 years within the bloc initially known as the European Economic Community (EEC) would be extremely painful for any member state. Both the UK top authorities and the business community understand that and want to retain access to the European market.
You can share this story on social media: