EU "make-or-break talks" on the way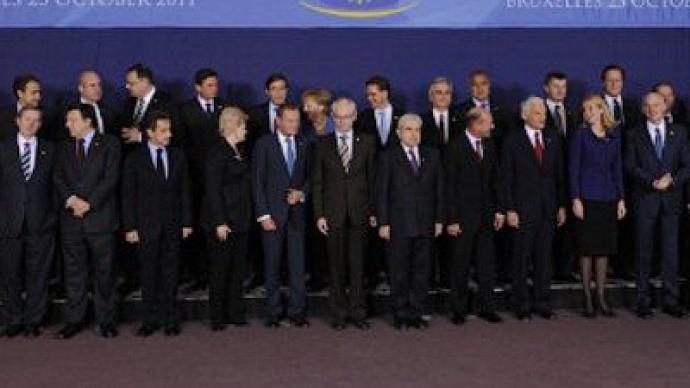 European leaders have dithered and delayed reaction to the evolving debt crisis, after spending 18 months discussing without decisive actions. Today, EU leaders will meet again in Brussels to finalize a new plan to recapitalize European banks.
The current debt crisis developed in the late 2000s among fiscally conservative investors whose concerns were related to the sovereign debt of several European states, with the situation becoming particularly tense in early 2010.In the so-called "PIIGS" countries – Portugal, Ireland, Italy, Greece and Spain -and also some EU countries outside euro zone -a crisis of confidence has emerged with the widening of bond yield spreads and risk insurance on credit default swaps between these countries and other EU members, most importantly Germany.Although European Union leaders will discuss the next step to end the debt crisis, no decision is expected to be announced. However, a clear conclusion on the nature of the bailout plan will be made. "Now is the time that we as Europeans must act decisively and effectively," said Greek Prime Minister George Papandreou. There are plans to force more than 90 European banks to raise one billion euros in extra capital to support Greece, which can't pay its debts and needs a write-off of at least 50%. Germany will spur the austerity plan, while another major concern is to boost the firepower of the bailout fund. Part of the EFSF has already been directed to help Greece, Ireland and Portugal but the amount is expected to be leveraged fivefold to provide between 1.25 and 1.5 trillion euro. On the other hand, France wants to turn the fund into a bank with unlimited credit from the European Central Bank. To avoid that worst-case scenario, deepening the pockets of the bailout fund will be essential, says Carsten Brzeski, ING senior economist."It looks as if private investors will have to take a much higher loss. We hear numbers now between 50 and 60 per cent, which I think would be painful for many investors," he says.At the same time, Germany has a winning plan to use the existing fund as a type of insurance mechanism that could guarantee future losses of up to 20 per cent on newly-issued bonds.Any positive news is expected to re-establish confidence and push the euro higher. However if no decisive steps are made, the risk of a global slump will remain very much on the cards.