EU financial transactions tax gains traction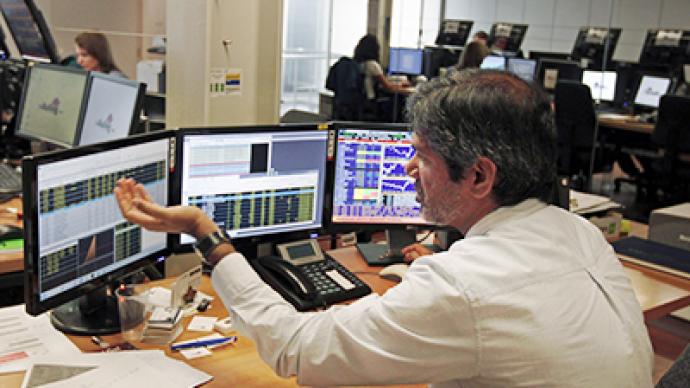 A tax on financial transactions is gaining support among EU states. Eleven countries have agreed to jointly push through the levy in an effort to make market players think twice before taking excessive risks.
Italy, Spain, Estonia and Slovakia joined France, Germany, Austria, Belgium, Greece, Portugal and Slovenia to coordinate their action on making the so- called "Tobin tax" a reality.Such a charge was first proposed and described by American economist and Nobel laureate James Tobin in 1972 as a way to cut volatility in financial markets. It is seen as a means to make financial institutions stay away from more dangerous operations.The countries still need to work out the details, though the EU Commission has suggested that trades in bonds and common stock be taxed at 0.1% and trades in derivatives be taxed at 0.01%, Reuters reports."This is a small step for 11 countries but a giant leap for Europe," Austria's Deputy Finance Minister Andreas Schieder told Reuters. "The way is now clear for a just contribution from the banking and financial sector for financing the burdens of the crisis."Some advocates of the tax proposed that the money raised could be used to create a security net for banks and help to fund the EU's budget. However, no exact decision has yet been made.France and Germany, which led the charge for the tax, had originally hoped it would be adopted by the whole European Union, but several countries – like Great Britain and the Netherlands – expressed concern about its economic impact. The decision was reached in the framework of the EU leaders' meeting in Luxembourg, where the finance ministers were seeking to find a solution for the region's troubled financial system. The issue of how to implement a single banking supervisor was also on the agenda, but little progress was made.Progress was also slow as ministers continued to debate the fine points of how Europe's banks should be regulated and how much help they can receive from the European bailout fund.The governments of indebted nations needed recently to inject heavily into the region's banking, with the latter being considered a safe bet. Such massive spending, however, raised concerns among investors.        The challenge now is to break the cycle. Several countries want Europe's new permanent bailout fund – the European Stability Mechanism (ESM) – to have the power to hand money directly to banks, rather than lending it through national governments, as is currently the case. To achieve that, the ECB must be put in charge as the supervisor of the banks, EU leaders agreed. The idea was also echoed by ECB President Mario Draghi, who addressed a European Parliament hearing in Brussels on Tuesday. Draghi also suggested going further, and creating a bloc-wide bailout fund to keep bank failures from wrecking government finances.The fund would put Europe in a position "where we could afford to let fail an important institution,'' Draghi said, and avoid losses to taxpayers or the kind of disruption that followed the failure of US investment bank Lehman Brothers in 2008. As was expected, the finance ministers also approved a break for Portugal on its deficit reduction targets. The country, which is funding itself with a €78-billion bailout , will reduce its deficit to 4.5% next year and 2.5% in 2014. Originally it was supposed to be under 3% by 2013.