EU not planning debt swap for Cyprus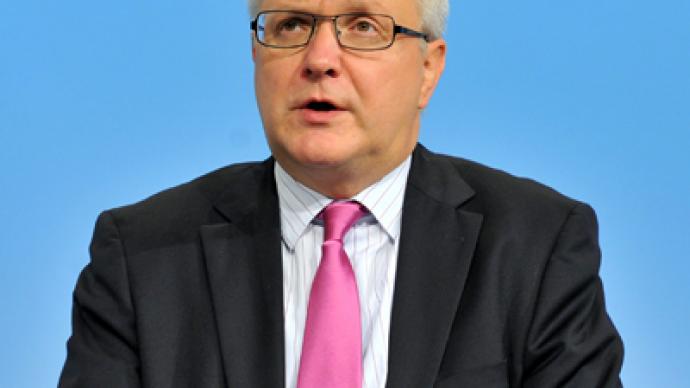 The eurozone is not considering a debt restructuring for Cyprus, but continues talks with the indebted island nation over financial aid, says EU Commissioner Olli Rehn.
"I expect that we can conclude the work and the Eurogroup can take decisions in due course so we can ensure financial stability in Cyprus," Olli Rehn, the European Economic and Monetary Affairs Commissioner, said at the European Policy Centre in Brussels on Friday. But "a haircut is not an option for us," Rehn stressed. In June Cyprus bid for an EU bailout, citing heavy exposure to debt-stricken Greece. The rescue package could reach 17bn euro, which is the equivalent to the entire Cyprus GDP. However, the international creditors were reluctant to provide the package, saying that heavily indebted Cyprus was unlikely repay the aid without further concessions from the "Troika". Besides that, Germany's policy makers expressed concern about providing money to a country which used to be a popular tax haven. The Cypriot government pledged it fully complies with international rules against money laundering. On Friday Rehn expressed the hope that Nicosia had made steps to clear up the problem of probable money laundering. Cyprus "has already enacted several laws against money laundering in recent weeks and months and now the critical thing is of course implementation," Rehn said.In 2011 the island nation got a 2.5bn euro loan from the Russian government, which was supposed to last three years. On Friday the Russian government announced it would look into possibly granting loan concessions to Cyprus. In 2012 Russia considered a 5bn euro loan requested by Cyprus, but did not approve it.On Thursday Moody's Investors Service downgraded its bond rating on Cyprus to Caa3 from B3, pointing to the country's rising debt burden driven by a need to recapitalize its banks. "Moody's believes there is a significantly increased likelihood that the Cypriot government may eventually default outright or press for a distressed exchange," analysts wrote in a statement. Moody's maintained its negative outlook on the rating.Moody's added that it saw a 50 percent probability the Mediterranean island would "default outright or press for a distressed exchange" on its debt.Last December the US-based S&P rating agency cut the rating for Cyprus by two more notches, from 'B/B' to 'CCC+/C,  adding that the outlook is also negative.
You can share this story on social media: