Top EU air carriers protest against 'green tax'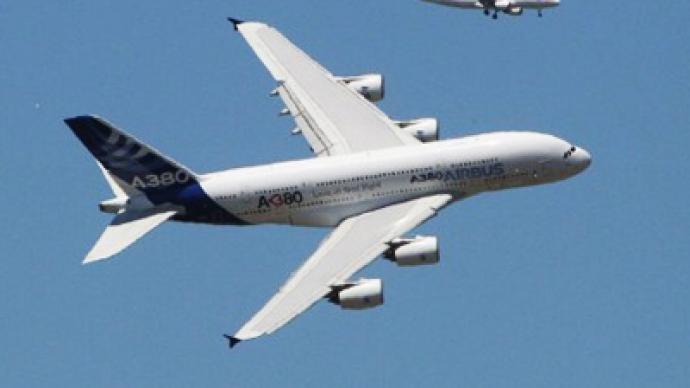 Global aircraft producer Airbus, as well as international air carriers, including British Airways, Lufthansa and Air France, say the EU "green initiative" will cost them billions, as well as cut jobs.
Virgin Atlantic, Air Berlin and Iberia are among other airlines criticizing the European Emissions Trading Scheme (ETS). French producer of equipment for aerospace and defense industries Safran and Germany's leading aero-engines producer MTU also joined the opposition club.This letter of criticism has so far been sent to the leaders of four EU countries – Great Britain, France, Germany and Spain.The European Emissions Trading Scheme (ETS), which requires all air carriers flying over EU territory to pay an extra charge for the emissions of carbon dioxide created during the flight, has long been a topic of heated debate.China recently banned its airline companies from paying this "green tax" and from increasing ticket prices. On top of that, the country's authorities blocked the deal to buy Airbus carriers, which could cost the company around $12 billion, Lenta.ru says.Russia is also on the list of critics of the initiative, threatening late February to limit the flights over Siberia. Any requests from EU air carriers for additional flights over this Russian territory would be denied, Valery Okulov, deputy transport minister of Russia said then. Instead, Asian airlines will be encouraged to increase their flights over Russia, he added.Vitaly Savelyov, the CEO or Russia's flagship airline Aeroflot, estimated the losses for his company at €40 million in 2012, with the annual tax charge going up to €800 million by 2025.The USA tried to dispute the carbon tax at the European court, but so far with no success.The ETS scheme already came into effect at the start of 2012 in some of the EU member states, as well as in Iceland, Norway and Liechtenstein. According to the game plan, air carriers flying either to or over Europe will start receiving the bills for carbon pollution in 2013, after all the necessary estimations.
You can share this story on social media: