Ernst&Young halves Russia's capital outflow figures to $40 bn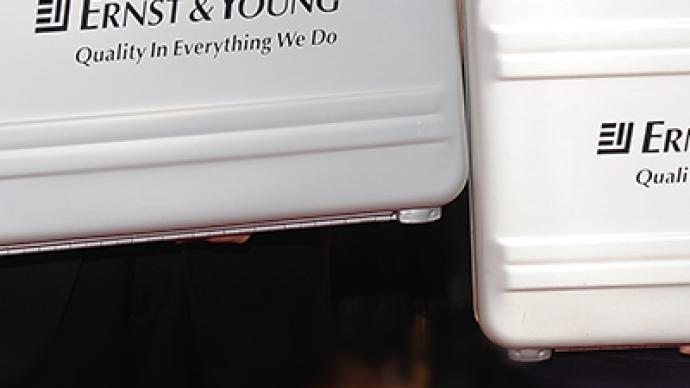 2011 figures on capital outflow from Russia are not as grave as $80 billion. In reality the country lost not more than half of the sum previously announced by Russia's Central Bank, new data reveals.
The report, by auditing company Ernst & Young, Russian Fund of Direct Investment and Center of National Intellectual Reserve at Russia's State University, has revealed that the real capital outflow for 2011 is $40 billion. The overall situation with the capital outflow in Russia is absolutely identical to other export-oriented countries like Kuwait, Norway and Japan. The $84 billion figure was reported by Russia's Central Bank due to incorrect calculations and use of terminology, according to the report. The Bank also didn't take into account the reasons behind transactions. For example, Russian companies returning money to foreign bank lenders, were added to the total. Experts claim that Russia's Central Bank should use another methodology that is accepted worldwide to calculate the capital outflow. The most popular is the private capital flows index, which is calculated by the World Bank, and for 2011 shows $32,3 billion of capital outflow from Russia. The report suggests that Russia's Central Bank should not have taken into account support of foreign banks' branches in Russia to their mother structures ($6 billion), direct investment into the Russian economy through off-shore companies ($7-9 billion), purchases of foreign aircraft ($6 billion), mergers and takeovers ($10 billion) and 'mistakes and omissions' ($9,9 billion). This would reduce the sum of the capital outflow to $40 billion. If some dubious companies operation and some bank assets and liabilities are excluded too, the sum decreases to some $32,8 billion. The research has also shown the extremely high intensity of capital exchange between Russia and offshore companies. Over the last 5 years $135,6 billion has been moved to offshore zones from Russia, while around $133 billion came back to the country as investments. This indicates low levels of confidence in Russia's administrative bodies, including financial and judicial systems. Earlier Russia's president Vladimir Putin, urged the government to take measures to restrict the amount sent to offshore accounts, in his address to parliament earlier in December , which could lead to further decrease in capital outflow from the country. "I think, the positive of this analysis really is to show where the differences are between the Russian methodology to calculate and perhaps other widely used methods internationally and to really start to compare the essence, the components of various numbers," Chairman of the Board Deutsche Bank Russia Joerg Bongartz told RT. "Obviously there is a capital outflow and there is relatively little capital inflow, so this has to change on the long run in order to improve the situation, but the government is working on it, the government is working on improving the investment climate, to improve the infrastructure for investment, and I guess, as a result we will see probably quite more positive numbers,"  Bongartz added. In October Russia's Central Bank said that the capital outflow from Russia is likely to stay at the same level as last year's $84 billion. Earlier this year, the country's Finance Ministry and the Central Bank expect this year's outflow to be at $60 to 65 billion, but the latest reports show that Russia's capital outflow over 10 months in 2012 was over $61 billion. According to Russia's Central Bank, direct foreign investments in Russia have reached $332 billion over the last 10 years, which is 18% of Russia's GDP in 2011.
You can share this story on social media: