EasyJet unites London and Moscow with cheap flights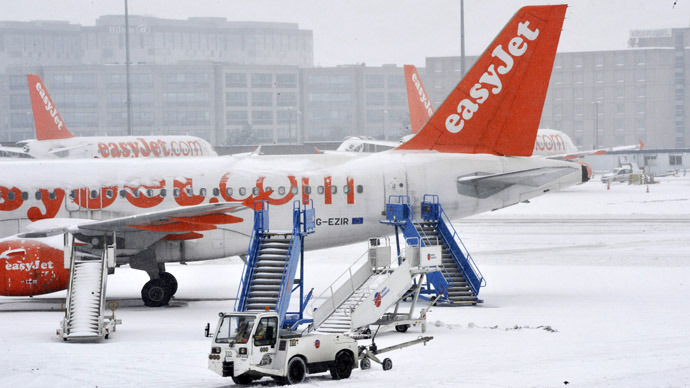 British low-cost airline carrier EasyJet has launched regular flights linking London and Moscow. The company became the second UK airline to serve the route along with British Airways.
The license became available after British Airways' parent company IAG purchased BMI who had been operating on the route. The low-cost airline beat Virgin Atlantic thanks to its pledge to serve more passengers and offer lower ticket prices. The price for a return fare will be fixed at £125, or $189, for the next three years, the company said, as the Financial Times reported Monday. The cheapest ticket with British Airways costs £311, or $470.
Ministers of both the United Kingdom and Russia hailed the new service as a boost to trade and investment cooperation between the two countries.
"Moscow is a landmark route and one we are delighted to be able to serve. Russia is the world's largest country with a growing economy. Offering frequent and affordable flights enables EasyJet to play a key role to aid trade links between the two countries," the chief executive of EasyJet, Carolyn McCall said.
The premier flight from London's Gatwick airport departed on the same day EasyJet debuted on the FTSE 100 index of British biggest companies as its shares more than doubled their value over the past year. The company was finally listed earlier this month, almost 20 years after its foundation.
EasyJet will fly under a commercial agreement with Russian partner Transaero. Starting on March 28 EasyJet will begin services between Manchester and Moscow four times a week, expecting a further 60,000 passengers a year to use the first direct route between the two cities.
Two Russian companies already operate between Moscow and London – Aeroflot and Transaero.

You can share this story on social media: