EasyJet to launch flights to Russia in March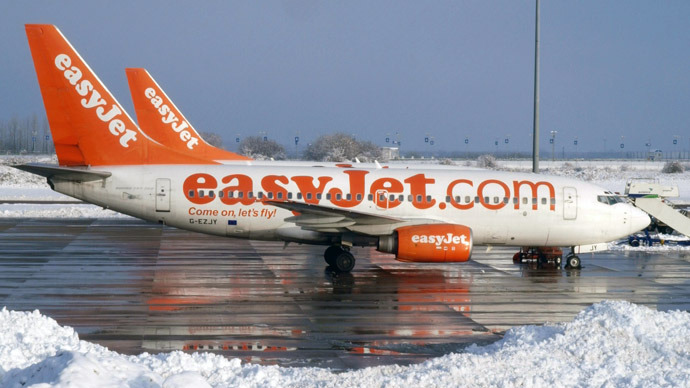 British low-cost airline easyJet will replace BMI on Moscow-London route after an agreement with Russian airline Transaero. Official permission to fly is expected to be issued in a few days.
EasyJet flights will fly between Domodedovo and Gatwick. The first daily easyJet flight from Moscow to London is planned to depart on March 18. Starting from April 15 a second daily flight will be added.

The UK's aviation regulator chose easyJet over Virgin Atlantic to take the second slot to operate flights between London and Moscow in October last year, after the UK carrier BMI, which held the rights, was bought by British Airways owner – the International Airlines Group.
The bilateral agreement between Russia and the UK states only two airlines from each of the two countries may fly between Moscow and London. The two Russian airlines are Aeroflot and Transaero. The second UK carrier is BA.
Transaero and easyJet have reached a commercial agreement, however no details have been revealed due to confidentiality, Vedomosti daily reports on Monday.
EasyJet beat Virgin Atlantic in the battle over the second slot. The company argued that it would provide a better service and pricing thus appealing to wider range of customers, the Financial Times reported. EasyJet promised to offer a low fare for round trips, with prices ranging from $160 to $600 depending on the date. 
Virgin argued easyJet is not the best choice as it flies smaller aircraft and does not provide business and first-class travellers with a worthy alternative to BA.
Transaero Director General Olga Pleshakova has posted a few details about Transaero flights between Moscow and London on her Twitter account. Transaero flights to London will depart from Moscow's Vnukovo airport starting this summer with prices starting at $500 return.
Virgin will remain Transaero's marketing partner on the Moscow-London flights. Transaero tickets to London will also be available for sale through the Virgin Atlantic website, Pleshakova said on Twitter.
You can share this story on social media: