Dixy to tap equity markets to fund Victoria deal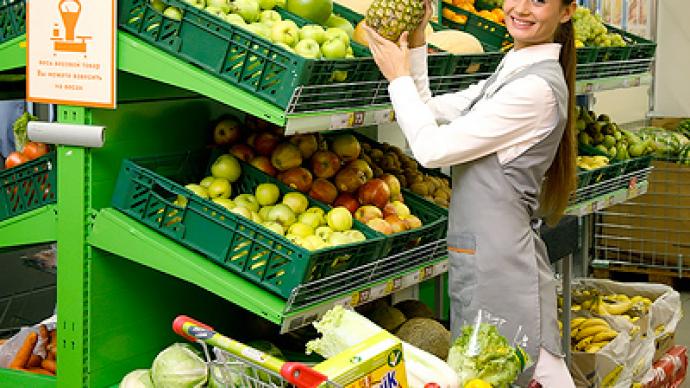 Retailer, Dixy, will seek to offer shares representing 11.38 % of the company in an SPO, prior to merger deal with the Victoria retail chain to finance the 20.5 billion rouble deal.
Following the March decision to acquire a 100% stake its rival retailer, Dixy is preparing funding through a placement of an additional 38.75 million of shares or 45% of the company's share capital.  According a Tuesday press release, the additional shares will be offered for existing shareholders as a priority offer. The rest of shares left after private offer will then be offered on the market by VTB appointed as an underwriter for the deal.
Anton Safonov, analyst at InvestCafe, says the merger with Victoria is good for Dixy and the secondary placement an ideal way of financing it.  He says the placement could offer investors an attractive entry into Russian retail.
"The total transaction of 20.5 billion roubles will be paid at company's own expense through a bank loan, and with the help of additional funds gained through an SPO.
The listing price is not yet defined, but the company shares, in case of placement with a discount to the current market price, can be very attractive for investors. Dixy currently trades at a discount to peers in developing countries. If the listing price is higher than the current market price, the share price may increase in the short term. At the end of the year the stock expected to rise by 28%, setting a target price of 486 roubles per share." 

Safonov also sees synergies from the merger with Victoria as supporting the share price.
"The major Dixy shareholder, is the prime candidate to purchase the shares and that adds confidence to the SPO and the acquisition deal.  Another important issue that can affect the company share price is a FY financial report under the international financial standards. We expect positive financial results at the end of 2011 attributed to acquisition of Victoria as well as organic development of the retail chain. Moreover, I believe company profits will rise as a result of cutting administrative expenditures."
Ekaterina Andreyanova, retail analyst at Rye, Man & Gor Securities, is certain that the Dixy will attract enough money to finance the deal with Victoria, but adds the success of the deal will become clear later.
"First of all, I think the most of additional shares will have been acquired by the major Dixy shareholder and the rest of shares may be interesting for middle scale investment funds as well as small portfolio investors, depending on the price per share. In my view the deal with Victoria certainly brings more advantages to the group's business by expanding of the chain, business diversity,  and market confidence. The transaction is large scale and it is a new challenge for the company. As soon as Dixy and Victoria post their financial results we will be able to analyze and infer whether the merge with Victoria will improve and support groups' organic growth. We will see a few more deals of that type in the future. We expect Dixy to increase profitability margin and reduce debts benefiting from chain expansion. Hence, we do not exclude the possible interest from other Russian retailers in Dixy business, although the group has a wide presence on the Russian market and will most likely increase its business and emerge into a robust competitor for other retailers."