'Banking clean–up' is healthy, more license withdrawals ahead – VTB head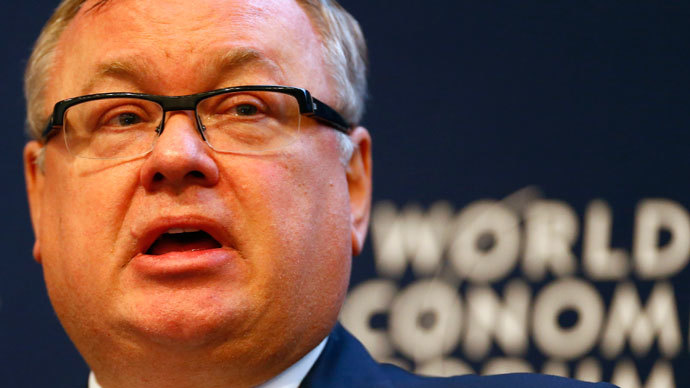 The revoking of licenses from 32 banks in Russia in just 6 months of last year is a vital measure to improve the country's investment profile, and "shouldn't be a concern" Andrey Kostin, the head of Russia's second largest bank VTB told RT in Davos.
"If you take the World Economic Forum report that was prepared before this meeting, the relative weakness of the Russian banking sector was mentioned as one of the weak points of the Russian investment climate. And this is because we still have quite a big number of very weak financial institutions and banks," said Kostin.
The 32 bank licenses withdrawn last year isn't something huge, as it represents only one percent of retail deposits in the system the VTB boss explained.
"It's less risky for both individuals and huge companies to work with such [more reliable] banks. So, it's a healthy process," Kostin added.
The Russian government is perfectly capable of compensating insured Russian who have up to 700,000 rubles in deposits, Kostin explained.
"I expect more licenses to be withdrawn," he added.
Russia in global reshuffle
The world economy is reshaping its way to a recovery, and it's crucial for Russia to get on the "priority list" of global investors and get its fair share of international money, Kostin said.
"A lot is now being said here about the need to reindustrialize western economies, about a new course for developing countries," said Kostin.
"Reconstruction of the world economy has outlined, and investors are thinking that, following a row of years of instability and uncertainty, a new era is emerging, when one can invest in future economic development," the VTB head added.
And to grab its share of the international investment that is growing, Russia needs to become a more active partner in the international dialogue.
Russia recently joining the WTO, and beginning its G8 presidency in 2014, means the country is increasingly integrating into the international processes, Kostin added.
You can share this story on social media: