Cyprus warns economic sanctions against Russia will destroy its economy
Published time: 16 Apr, 2014 16:49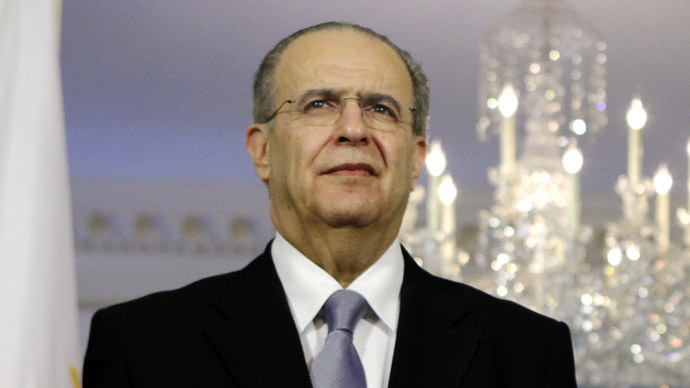 Cyprus Foreign Minister Ioannis Kasoulides told a German newspaper Wednesday that economic sanctions against Russia by Europe would destroy the Cypriot economy, adding that every EU state should decide separately whether they want to cut ties with Moscow.
"There are very strong economic ties between Cyprus and Russia. If sanctions are really necessary, then every member state should decide for itself whether to take part. However the measures look, we must not harm ourselves," Kasoulides told Die Welt.
Kasoulides, speaking during deliberations at a meeting of the Foreign Affairs Council of the EU in Luxemburg, said the upcoming meeting in Geneva between the US, Russia, Ukraine, and the High Representative of the EU is an important "weapon" for establishing de-escalation in Ukraine.
"That is where our efforts should focus," he added.
After the meeting, EU foreign policy chief Catherine Ashton said the ministers "condemned unreservedly" the recent events in Ukraine, adding that they plan to add additional people to the asset-freeze and travel ban list which was created following the hasty referendum in Crimea last month. Thirty-three Russian officials are already on the list.
There are three stages of sanctions which the EU has drawn up against Russia. Current sanctions – the first two stages – stop short of economic measures and target individuals close to President Putin and disposed Ukrainian President Viktor Yanukovich. The third stage, which was discussed by the EU on April 14, would include full economic measures.
Legal and accounting firms in Cyprus say that sanctions against Russia would negatively affect their prospects for growth, Vedomosti daily reported.
"Sanctions would have a limited influence in Cyprus but right now uncertainty remains and part of the decision making in business will be delayed," Elias Neocleous, deputy director of Andreas Neocleous and Co, told Bloomberg. Seventy-seven of the firm's lawyers and six of its tax inspectors have direct dealings with Russian and Ukrainian clients.
Cyprus is one of the biggest offshore investment destinations for Russian money. According to figures from the Central Bank of Russia, $12.9 billion was invested into Russia from Cyprus in the last three quarters of 2013.
But overall, the Cypriot economy remains in poor shape; it shrunk by 5.4 percent in 2013 as a result of tough EU austerity measures and a restructuring of the financial sector. GDP also shrunk by 4.8 percent last year.
A political crisis between Russia and Ukraine would further damage growth prospects for the island. It would also have a devastating effect on tourism, because the number of tourists from Russia and Ukraine would shrink, explained Teodor Panaiotu, a professor of economics and director of the International Management Institute of Cyprus.
"This crisis will lead to a drop in tourism and investment, which we can expect from Russia and Ukraine," he said.
Tourism is now the most important area of the Cypriot economy and is more valuable than the banking sector, according to former Cyprus President Georgios Vasiliyu.