Greekfluenza: Athens to give Cyprus crisis contagion?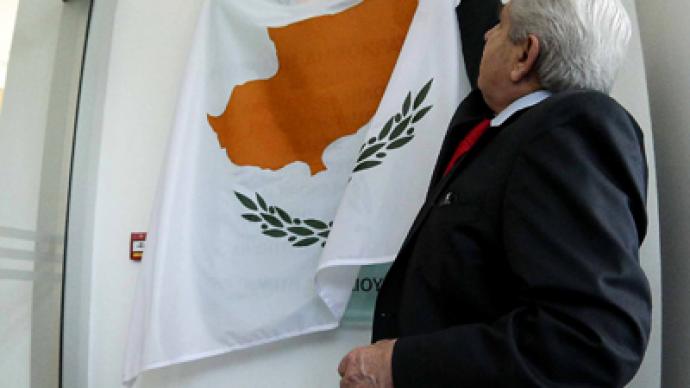 Cyprus could become the fourth country to seek financial help from its European neighbors as early as this month.
The island nation is likely to need a bailout to recapitalize its banks, which have been rocked by neighboring Greece's crisis, the country's Central Bank governor Panicos Demetriades told the Financial Times.
Demetriades said that with an end-of-June deadline to find at least 1.8 billion euro to recapitalize Cyprus Popular Bank, the country's second largest lender, tapping into the EU funds is looking increasingly probable.
"Clearly the closer you get to the deadline the less unlikely it becomes," he said, adding that the country was facing "an important crunch time". Russia has already lent Cyprus 2.5 billion euro to help the government meet its debt payments. Demetriades also noted Cyprus is in talks with European authorities in a bid to extend the June 30 deadline until the end of August.
Cyprus would be particularly vulnerable to a Greek euro exit because of its large banking system's huge exposure to Greece, estimated at 144 per cent of the island's gross domestic product.
Cyprus is already rated below investment grade by two major rating agencies and pays a yield of around 14 per cent on its 10-year bonds.
The Central Banker's comments came shortly after President Demetris Christofias said it wasn't certain whether the country would seek a bailout. He said that conditions would be "chaotic" if debt-drowned Athens quits the euro, and that the impact of such a move would be felt not only by all other countries using the currency, but by all of Europe.
Christofias also noted that Cyprus is looking at contingency plans in case of a Grexit, as his country's financial system's exposure to Greece is estimated at more than its total GDP.
On Thursday the European Commission announced that the economic activity of Cyprus is expected to contract by 0.8 per cent in 2012, before regaining some momentum in 2013 to reach 0.3 per cent of GDP.
Unemployment in the country is on the rise and has recently set new records, especially among young people. The Commission notes that this year, joblessness is expected to increase to 9.8 per cent.
The body proposed that Cyprus take extra measures to achieve a durable correction of the excessive deficit in 2012.
"Cyprus is affected by sizeable and persistent current account deficits, large amount of accumulated private sector debt, widening annual deficits of public finances and the large exposure to Greece of the banking sector," the Commission said in a report.
You can share this story on social media: