Bribery affected by inflation too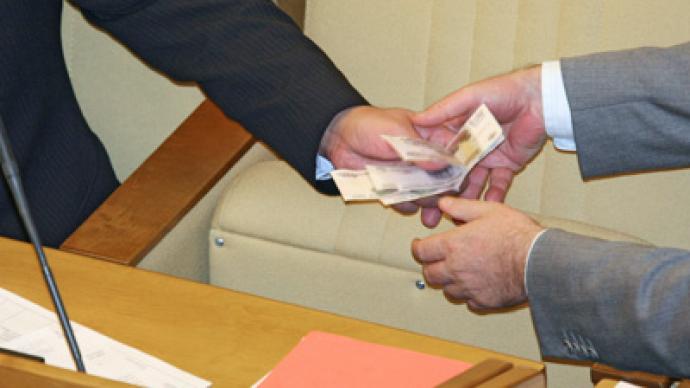 Inflation in 2011 didn't just hit food prices but the price of corruption too. Official data shows the average cost of a bribe more than tripled last year.
The Economic Security Department reported the average bribe was 236,000 roubles ($7,800), a massive jump from the 2010 figure of 61,000 roubles ($2,000). But fighting corruption is also on the rise. The number of financial crimes solved has increased by two and half times. The amount of recovered money from medicine, public utilities, construction and education grew 1.5 times, which is about 4.5 billion roubles returned to the state budget, and citizens. Over the year a number of top officials across Russia appeared in court for taking brides or for excessive use of their powers.The share of finance related crimes last year accounted for 95% of the total public offences (202 thousand crimes). According to the Police the most prevalent crime was fraud, followed by credit card offences, and thirdly what they describe as consumer market crimes. More than 250 cases were taken out against municipal workers, in the healthcare and welfare industry some 1.990 cases, and more than 2000 in education. Statistics show the amount ordinary Russians have pay for bribes at public clinics and at the State Automobile Inspectorate have doubled since 2005 to 5300 roubles ($175). And it looks like the cost of a bribe is growing faster than people's salaries. Wages in Russia have increased by 3.5% in real terms in 2011, making the average monthly salary in the country 23,532 roubles ($775).According to Transparency International report, the overall corruption rate dropped last year, but the value of bribes grew. It puts Russia in 143rd place out 182 among other most corrupt countries in the world.In 2010 Russian was in 154th place.
You can share this story on social media: