Coca-Cola seeks to assuage critics with anti-obesity campaign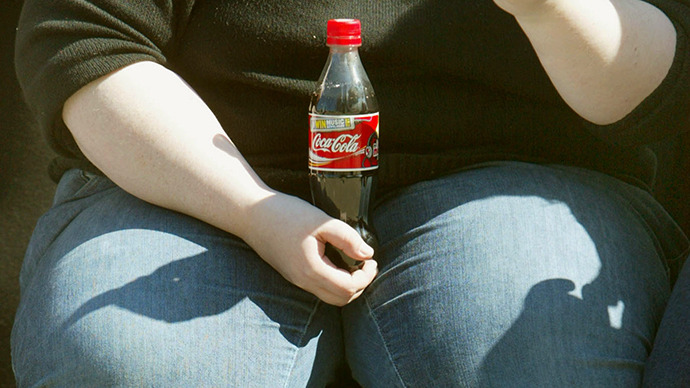 Coca-Cola has announced it will promote diet drinks, provide clearer calorie information and stop advertising to children under 12. Still, this may not appease the company's many critics seeking legal ways to restrict soda consumption.
The Atlanta-based beverage producer announced on Wednesday a pledge to export its US-centric business strategy – emphasizing diet drink options – to emerging markets. As a result, countries like China, India and Russia could in the near future see an increased promotion of low- and no-calorie drinks, as well as clearer labeling of calorie counts.  

Currently, 41 percent of all Coca-Cola drinks bought in the United States are for one of the brand's low-calorie varieties; in China, diet drinks are estimated to account for less than 10 percent of overall sales.

The company also promised to stop marketing to children under 12. The pledge was first made in 2007, but Coca-Cola insisted that it was not a global effort, as it is now. Company officials have not specified in which countries it still markets to children younger than 12.
 
The company also did not specify the timeframe or cost of the initiative. It did announce plans to hand out $3.8 million in grants for 'active living' programs, in an attempt to associate its product with burning – instead of consuming – calories. "There is a place for all of our beverages in a healthy lifestyle," Coca-Cola CEO Muhtar Kent said, according to AP.

Coca-Cola's low-calorie push is however not appreciated by all anti-obesity activists. The company's objective is to "deflect criticism of sugary drinks and to forestall any meaningful government action to reduce soda consumption. This is a campaign to sell more Coca-Cola and not a campaign to combat obesity," said Jeff Cronin, a spokesperson for the Washington-based Center for Science in the Public Interest, according to Bloomberg.

Most of Coca-Cola's major critics hail from the US, which has been fighting high obesity rates for decades. According to research published by Gallup in January, 26.2 percent of the US population is obese and 36.1 percent is overweight.

Though Americans are more and more opting for diet soda options, there is an increasing push to place restrictions on soda producers in the US, including proposed soda taxes at the state and city level. New York City attempted to cap soda sizes at 16 ounces in city stores and restaurants, but the move was overturned in court in March.  

Coca-Cola's current low-calorie campaign is not only in response to critics in US and Europe, but also an attempt to preempt criticism in emerging markets, where anti-obesity campaigning has not yet become an issue.

You can share this story on social media: