Icelandic trade alliance advances Chinese Arctic ambition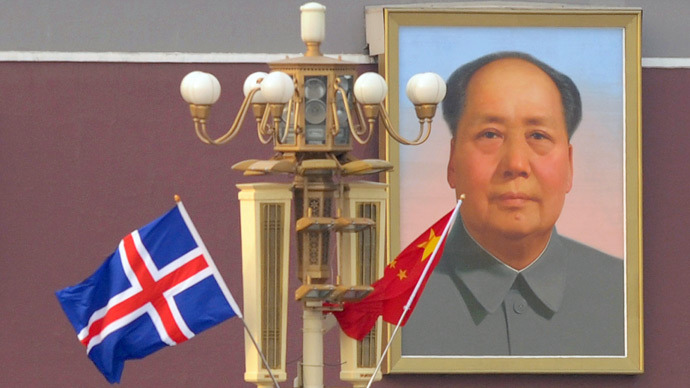 In exchange for advantageous trade tariffs, Iceland may be able to give China the Arctic influence it's been seeking, as it supports the world's second largest economy's bid to join the Arctic Council.
After entering a free trade agreement on Monday, the remote and recession-crippled Iceland is brokering Chinese Arctic access.
Olafur Ragnar Grimsson, President of Iceland, advocates in favor of oil companies and countries without direct territorial claims to the Arctic, and believes they should have a voice in the region's future.
"We realize that there are other nations in Asia and Europe that have legitimate concerns and enterprises in the Arctic and it's important to involve them in a co-operative effort," Grimsson said.
China doesn't border the Arctic seas, but is still seeking a permanent observer status on the Arctic Council, an eight nation body with territorial claims to the region, including Iceland. China's application is expected to be accepted when a decision is made next month.
The Arctic Council members are the US, Canada, Denmark, Finland, Norway, Russia, Sweden, and Iceland.
Iceland provides a unique opportunity for China, as its proximity to the melting Arctic circle (1,000 km) could open up new potential trade routes, and possibly natural resource exploration -gas, oil, diamonds, gold, and iron- all resources any up-and-coming superpower should have its sights on.
If enough ice melts to create a viable shipping route, it would cut about 6,400 kilometers (4,000 miles) and two weeks off the voyage from Shanghai to northern European ports.
China has hunkered down heavy investment in the Arctic region, from Russian oil ventures with Rosneft to iron-ore extraction projects in Greenland. China has flirted with the idea of sinking $2.3 billion dollars into Greenland to trade 15 million tons of iron ore per year.
''It's attractive also for all the resources but China is already a major shipping nation ... and Chinese companies are now very eagerly awaiting policy signals from the Chinese government on what kind of priorities they will give to the Arctic,'' said Leiv Lunde, director of the Oslo-based Fridtjof Nansen Institute, who was in Shanghai Monday attending an Arctic issues conference.
China recently completed its largest embassy in Reykjavik, which can reportedly house 500 people, and demonstrates China's serious interest in the area.
The 30,000 km free trade agreement
30,000 kilometers (19,000 miles) of tumultuous waters, ice caps, and snowy landmasses stand between Iceland and Shanghai, but this didn't deter Icelandic Prime Minister Johanna Sigurdardottir and Chinese President Xi in their trade negotiations.
"China is willing to increase exchanges and mutual understanding with Iceland and boost bilateral cooperation in sectors such as clean and renewable energy and fisheries," Chinese President Xi said.
The free trade pact will lower tariffs and will boost seafood exports from Iceland to China.
"It also signals the deepening of our relationship, especially our economic relationship which has been lifted to a new height," Xi said during talks following a formal welcome ceremony at the Great Hall of the People in Beijing.
"The Free Trade Agreement (FTA) and the joint declaration inked yesterday between the two nations bear great significance in pushing forward bilateral relations," said Xi.
Trade between the two countries rose 21.1% last year to $180 million, according to the Chinese Ministry of Foreign Trade.
Cozying up to China
The move towards China, and not the EU is a political move of independence away from the EU.
Iceland began its EU membership application in early 2010 but in 2012, due to overwhelming opposition and election season, the Icelandic Parliamentary committee suspended ascension talks with the EU. Almost two thirds of Icelanders oppose membership and less than 25% support entrance, according to the most recent islander poll. However, ministers keep hinting at the need to join up with their neighboring economic heavyweight.
The Icelandic economy is still in recovery after the banking bubble burst in 2008. Banks declared bankruptcy instead of getting a bailout, and started from scratch, a unique path to financial stability, that seems to be working for Iceland, as growth slowly recuperates. 
When the 2008 economic crisis hit, Iceland shocked economic pundits and let its three largest banks fail, and defaulted on $85 billion. The stock market dipped 90%, unemployment jumped to 10%, and most the inflation rate topped at 18%. Now that the market has stabilized, they are looking far and wide to expand their export industry.
You can share this story on social media: