Chinese, US and Russian rating firms set up a JV to rival the Big Three
Published time: 23 Oct, 2012 12:10
Edited time: 23 Oct, 2012 16:10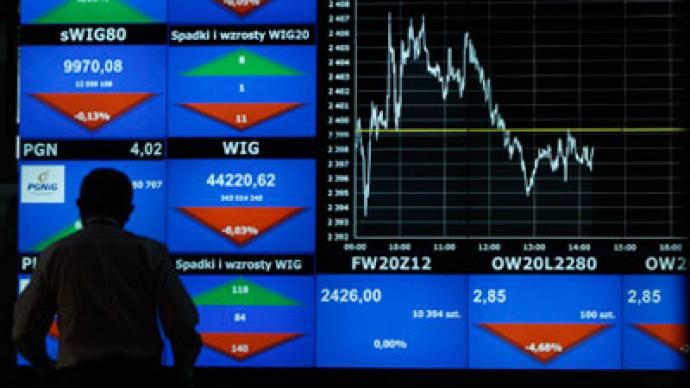 China's Dagong Global Credit Rating agency is to set up the joint venture with US-based Egan-Jones Ratings Co (EJR) and Russia's RusRating JSC to challenge the three major US ratings agencies.
"The current international credit rating system has proven inadequate to the task of producing responsible and reliable ratings," Dagong said in a statement, adding that a new agency is needed to "mitigate economic risk in the development of human civilization".

The new institution, called Universal Credit Rating Group, will handle global ratings "as an entirely independent rating service provider", which "do not represent the interest of any particular country or group". Earlier this year the head of Dagong, Guan Jianzhong called for the creation of a global credit rating system with uniform standards.
Dagong is a leading Chinese rating agency, which rated the US debt lower than the three major US rating agencies Moody's, Standard and Poor's and Fitch in 2010 and 2011. But the US Securities and Exchange Commission refused to recognize Dagong's ratings. US-based EJR positions itself as unique among rating organizations for being wholly investor-supported. RusRating is an independent rating agency, operating since 2001, focuses on ratings for the banking sector
The three major rating agencies that are responsible for giving risk assessments to investors have come under increasing pressure since 2008 over their apparent contribution to the world economic turmoil. Some critics say the rating agencies were partly to blame for the global financial crisis of 2008–2009 as they gave top ratings to risky debts in the US housing market.
European politicians criticized the agencies for aggravating tension in the markets through regular downgrades of countries and institutions. German Foreign Minister Guido Westerwelle called for the creation of an independent European rating agency. "It is time for Europe to prove capable of facing up to the credit ratings agencies," Mr Westerwelle said.
The G20's Financial Stability Board which recommends changes to the global financial system sought a way to reduce the weight ratings agencies have on investment decisions. It wanted to establish a regulator controlling the rating agencies.