China switches on printing press to cope with economic hurdles
Published time: 28 Sep, 2012 13:12
Edited time: 28 Sep, 2012 17:12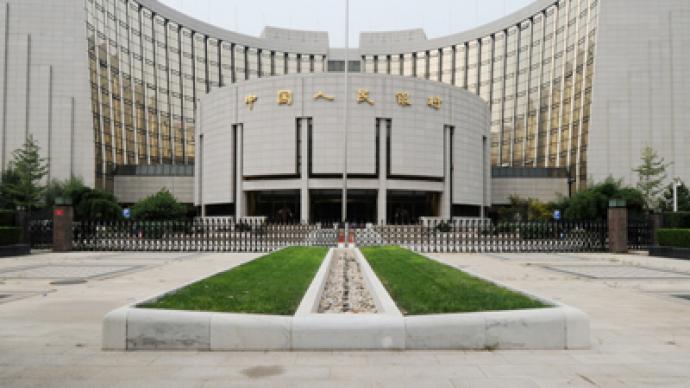 China´s Central Bank has decided to join the Fed and ECB in their ´pump in money´ move, injecting a record $57.9bln into the financial system. This is to help create a soft landing for the number two economy amidst the global turbulence.
Such injections can help cut lending rates, but full-fledged success shouldn't be expected before 2013, Vedomosti daily quotes analysts from the Economist Intelligence Unit.
China's Government is also trying to heat up its economy by investing $1.6trln in infrastructure.
Despite helping the Chinese economy out of the recession in 2009, such measures this time around could turn out to be inefficient, say HSBC analysts. Today the country faces problems of so-called artificial overheating: sky–high inflation is coupled with a "destructive bubble" in a housing market and growing debt, analysts specified.
As the global economic outlook becomes increasingly gloomy, export oriented China, sometimes referred to as the World Workshop, is set to grow at a much slower pace of around 7% over the next decade, Jim O'Neill, Chairman of Goldman Sachs Asset Management, told Reuters.
The profits of Chinese industrial giants fell 6.2% year on year in August to reach $60.4bln, following a 5.4% drop in July, says the National Bureau of Statistics of China.
Anyway, there shouldn't be a "hard landing" for the Chinese economy, according to Fitch. The ratings agency sounded more optimistic than a Goldman Sachs expert, forecasting a 7.8% growth for the country in 2012, which should accelerate to 8.2% in 2013 but then slow down again in 2014 to 7.5%. Barclays analysts also expect a 10% growth, but it will go down to around 8% in 2010 – 2020, which still remains the best performer among its BRICS counterparts.
Earlier in September the European Stability Mechanism (ESM) – the permanent eurozone bailout fund – allowed the European Central Bank to buy sovereign bonds, which should help to lower interest rates and boost economic growth across the region. Fed Chief Ben Bernanke also announced another round of money injection. The Fed will spend $40 billion a month on bond purchases in an effort to kick-start the US economy.