Cherkizovo posts 9M 2010 net income of $104.4 million
Published time: 30 Nov, 2010 07:58
Edited time: 30 Nov, 2010 14:41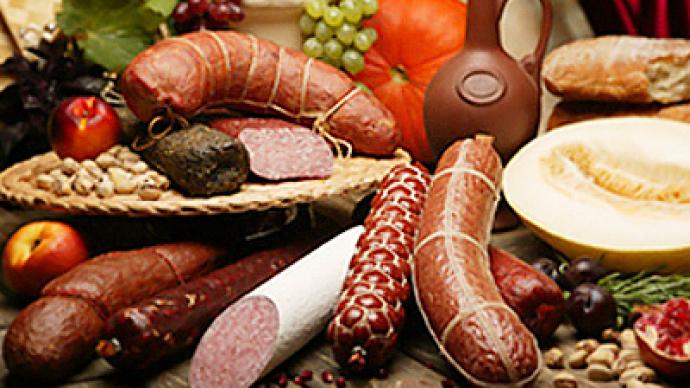 Russian meat production group, Cherkizovo, has posted a 9M 2010 net income of $104.4 million under US GAAP.
­The bottom line is up 26% year on year from the 9M 2009 net income of $82.9 million, with adjusted EBITDA up 21% year on year to $159.5 million, on the back of a 20% year on year increase in revenues to $877.7 million.
The company noted total pork sales were up 79% year on year to $162.6 million on the back of increased production, with new sites coming online in 2011 to boost capacity to  153,000 tonnes a year.
Cherkizovo Group CEO, Sergey Mikhailov, was positive about the results, but noted that tightening price pressures in the pork and poultry divisions would make for a challenging short term outlook.
"During the first nine months of 2010 we have delivered a solid performance, with a 20% increase in revenue and growth in Adjusted EBITDA of 21%. This has resulted in a healthy 18% Adjusted EBITDA margin. However, our results were affected by the tighter pricing environment in the poultry and pork divisions, particularly towards the end of the third quarter, and we expect pricing trends to remain challenging throughout the fourth quarter of 2010 and rolling over into the first quarter of 2011."
Mikhailov also warned that Russia's meat producers had not yet seen the full impact of the summer drought, which has impacted on grain supplies, noting that it would see meat prices move higher over the longer term.
"Going forward, we anticipate a rather challenging year in terms of grain supplies globally, particularly in Russia. At the Group level, we have already secured approximately half of our grain stock needs for 2011, and are actively continuing to secure further grain supplies. This year, inflation for meat products in Russia has been relatively low compared to other consumer food products, despite the sharp increase in grain costs. We are now witnessing a slight oversupply of meat in the market, as less efficient producers and individual households are slaughtering livestock due to grain shortage. Combined with an increased share of poultry imports in the second half of this year, this puts a downward pressure on selling prices, especially for poultry sales. This may continue into the beginning of 2011, as producers will accumulate stocks. In the medium term reduction of livestock will potentially lead to more aggressive meat price inflation in 2011."