Chavez's death opens oil industry questions for Venezuela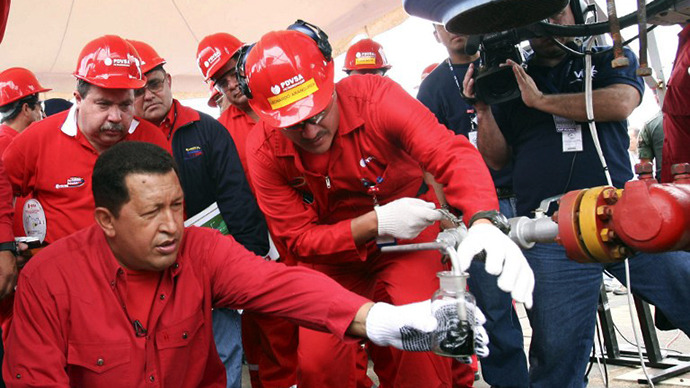 The news of the Venezuelan leader's death has had a moderate impact on crude prices, but has opened a Pandora's box about the future of the nation's oil reserves, the world's largest.
Hugo Chavez –the orchestrator of Venezuela's oil industry- which sits on an estimated 297 billion barrels of oil - died at 4:25pm on Tuesday at a military hospital in Caracas.

Crude oil prices rose moderately in reaction to the news, and will likely continue their upward trajectory. Brent crude gained 33 cents to $111.94 a barrel on the ICE Futures exchange in London. In New York crude oil closed at $91.04 a barrel, rising 0.24%. Brent closed at $112.95 on Tuesday. Chavez's death wasn't the sole catalyst for the price bump. The closure of a North Sea Brent pipeline –which transports 90,000 barrels a day – is also a factor that sent prices upwards.
Investors are betting on higher oil prices, and experts are closely watching the political situation, as Venezuela is an export driven economy and a top 5 US supplier. 
The future of crude oil prices will be dependent on Venezuela's future geopolitical situation, and there may be a brief drop in oil production output.

"Problems in Venezuela will undoubtedly impact the market, but may not be too much of a problem for the market to cope with," said Ric Spooner, chief market analyst at CMC Markets in Sydney.
A potential oil super power, Venezuela hasn't tapped into its full oil potential. Venezuela is currently the world's fourth largest OPEC producer, after Saudi Arabia, Iraq, and Kuwait.
Venezuela's oil deposits of an estimated 297 billion barrels are comparable or even slightly above those of Saudi Arabia, the world's biggest oil producer. But actual production is far behind due to decades of underinvestment.  In 2012 Saudi Arabia exported 12% of the world's oil, and Venezuela only 3%. Since 1998 oil output has fallen 25%, currently Venezuela is the fifth largest oil exporter. When Chavez took office in 1999, Venezuelan crude oil was about $9 a barrel, and fourteen years later, it is $103.89, almost an 11-fold increase.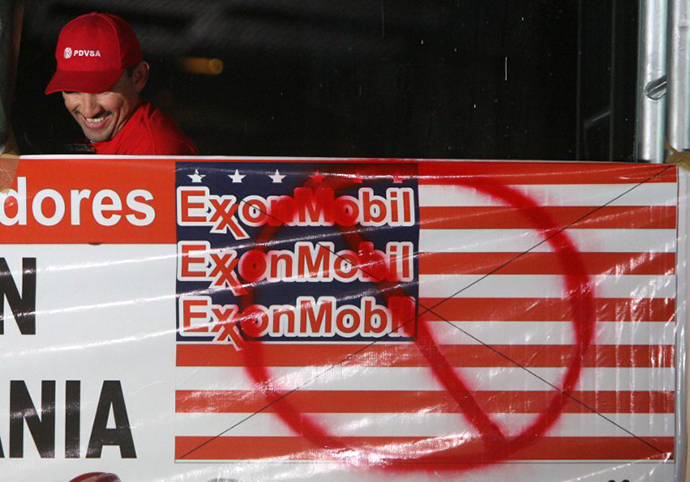 A new era for Venezuela's oil riches
The death of Hugo Chavez has unraveled a Pandora's box for the future of Venezuelan oil, which has been state controlled since Chavez took power in 1999. The man who once declared that capitalism killed Mars also used petro-dollars to nationalize Venezuela's oil wealth, and then used profits to subsidize a socialist welfare state.
"Chavez has been in the forefront of achieving sovereignty over the oil resources of the country. Oil is fundamental to Venezuela, for its geostrategic global economy, because our nation has enormous resources," said Rafael Ramirez, Venezuela's energy minister.

Energy sales account for 95% of the country's export earnings. So far oil has been safe guarded and wealth redistributed by Chavez himself, but his exit from the political scene could open a new economic market.
Many neighboring oil executives are meeting the political transition with optimism, and investors are eyeing more friendly market policies.
 "Things will change," said Ronald Pantin, chief executive of Bogota-based oil producer Pacific Rubiales Energy Corp in an interview before Chavez's death.
"It took years for the opposition to realize that a lot of what Chavez did, Venezuelans liked," said Ramirez. "The emphasis of the state's role in the economy is something that will be long- lasting."

"It's too early to tell how the new leader will handle it, but ConocoPhillips could benefit the most," Fadel Gheit, senior oil analyst at Oppenheimer & Co, told Christian Science Monitor.
US oil companies helped Venezuela develop wells in the first half of the 20th century. In the 1970s, the country's oil and gas sector was nationalized, essentially ousting foreign companies. Since Chavez became president, state control over this sector – and the rest of the economy – has intensified. Chavez kicked out oil giants Exxon-Mobil and Conoco-Phillips and nationalized over 1000 companies.
ConocoPhillips is looking for over $20 billion in compensation of lost assets. In fact, at the time Chavez ousted the company, it was the biggest foreign stakeholder in Venezuela, so it will likely try and regain its former assets.
Exxon Mobil was seeking $12 billion in compensation for assets that were taken from its Cerro Negro, but in January 2013 an arbitration panel has awarded the US oil giant less than 10% - $908 million.
Chevron Corporation continues to have some projects in the country, but the company faces constant pressure from state owned agencies.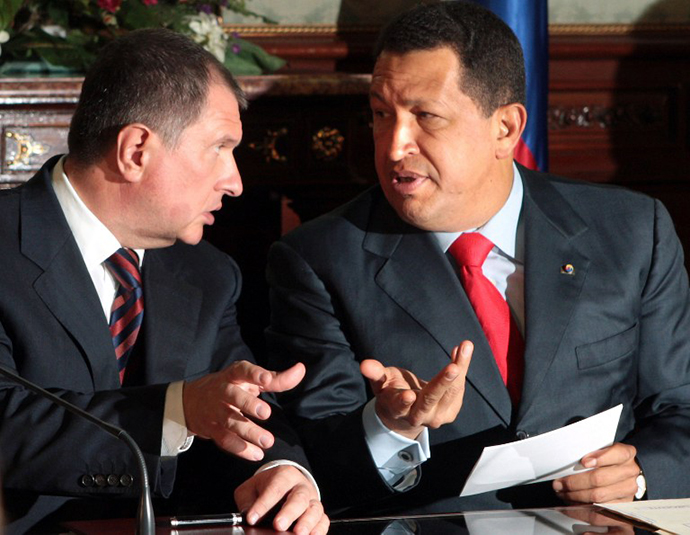 Venezuela a 'priority' for Russian oil investment
Similar to the US, Russia has also had a large presence in the Venezuelan energy sector. For almost a decade, Russia's largest privately owned oil company Lukoil has been developing the Venezuelan Orinoco Oil Belt with the country's state-oil firm Petroleum of Venezuela, the world's third largest.
Another Russian energy major, Gazprom has been developing gas deposits in the Gulf of Venezuela since 2008.
Last month Russia's leader in petroleum industry, Rosneft announced Venezuela will be a 'priority' for the company in foreign energy projects. The oil giant agreed to develop several fields in the crude-rich southeast region, and has committed $40 billion in investment. However, Petroleum of Venezuela will control the majority of the project's stake, at 60%.
Russia hopes all the agreements reached with Venezuela under the Hugo Chavez presidency will remain in place and the two countries will retain the same level of cooperation, Russian Deputy Prime Minister Arkady Dvorkovich said on Wednesday.
"We hope that all the agreements that were reached will be implemented. We also intend to fulfill our commitments and hope that the policy of Venezuela will stay the same," Mr Dvorkovich said.
Oil games
If the opposition comes to power in Venezuela, the rules of the oil game can change and not necessarily to the benefit of Russian companies, Konstantin Simonov, head of the National Energy Security Fund told RT Business.
"The opposition in Venezuela is quite strong. We remember elections in 2012 when the gap between Chavez and his closest rival was just a small percent. It means Mr Maduro can lose the election and this scenario will be extremely dangerous for the Russian companies. I'm pretty sure in that case we will see American companies returning to Venezuela," Mr Simonov said. 
Russian companies will be forced out of major projects they managed to nail, once  American players enter the game, as they will try to eliminate unwanted rivals and become sole shareholders of the projects. Peaceful co-existence is unlikely to happen there, says Konstatin Simonov, as the costly production of the cites will leave not enough profit to be shared among all sides engaged.
A new leader can also take advantage of the competition among the companies for the rights to get their hands on Venezuela's oil reserves, Mr Simonov goes on, and simply sell the projects Russia has only agreed to develop but has yet to finialize. 
"If we are speaking about the Junin-6 project, Rosneft and its Russian partners paid Chavez an "entrance ticket" of $1 billion. It wasn't an investment, just a payment. So instead of asking for $1 bln, how about half a billion, to take these assets from Russian companies and sell them to Americans. This is very simple logic with such political regimes – if we see a new leader come to power, they'll try to abolish all the old contracts and sell the same assets to the new parties because you can sell the same assets twice. This tactic clearly makes for very good business."
But experts say that it is likely that the country's policies will not change much, as Nicholas Maduro, endorsed by Chavez, is favored by political pundits to take over as president. The election will be held in 30 days.
"My expectation is that we will see the status quo, with a transition to a similar style of government from Chavez's successor," said Katherine Spector, head of commodity strategy at CIBC World Markets in New York.
You can share this story on social media: