Central Bank ups refinancing rate once again - to 13%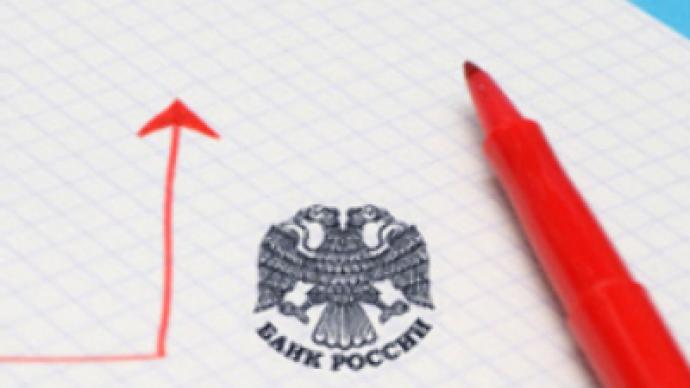 The Central Bank of Russia has increased its refinancing rate for the 6th time this year.
It raised the rate to 13% from December 1 on Thursday, up a further 1% in the second rise this month, with rates applying to 1 and 7 day repurchase auctions rising to 10% from 9%. The measures are aimed at reducing the outflow of capital from the country and preventing a slide in the ruble's rate against the dollar, but come just a week after Finance Minister Alexei Kudrin predicted a cut in the rates. The move comes as the Russian Rouble has suffered its biggest weekly decline against the euro in 5 years.
Yaroslav Lissovolik, Chief Economist for Deutsche Bank in Russia, told RT, "We're probably looking at further increases" in the short term, and the Head of Russia's Union of Industrialists and Entrepreneurs, Aleksandr Shokhin acknowledged that rate cuts will depend on how quickly inflation can be reigned in.
"For the Central Bank its very difficult to minimize the rates, the refinancing rates, in the situation when the inflation is more than 12%. That's why the Central Bank is following inflation rates and if inflation will be cut in the forthcoming weeks and months, it will be possible to minimize, to decrease the refinancing rate of the central Bank."
Independent Directors rise in prominence on Russian company boards
Market Watch November 27: A quiet day with some upside
You can share this story on social media: