Trend for higher rates to raise liquidity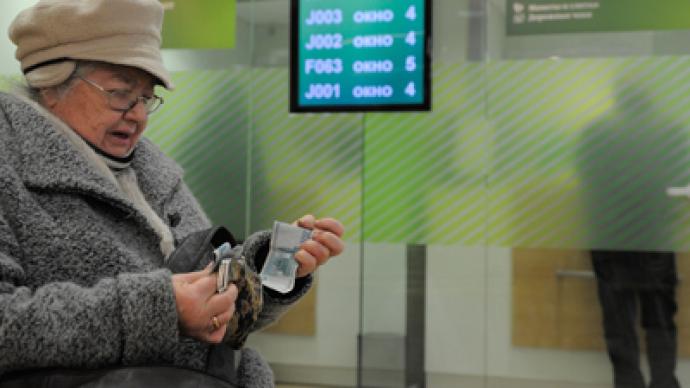 It's a great time for savers in Russia, as the banks have been increasing their interest rates for deposits because they're hungry for liquidity. But analysts are mixed on whether the good times will persist.
Since the beginning of the year deposit rates among the top ten Russian banks grew 0.1 percent. According to the Central Bank of Russia the average rate is now just over 9.5%.
The head of the analytical department at Zerich Capital Management Nicholas Podlevskikh believes the growing rates are a reaction to recent Central Bank interventions and global volatility.
"The upward trend in deposit rates is more or less due to the Central Bank tightening monetary policy and the tense situation in the banking system of Europe, which contributed to cash "dehydration" on the markets."
Banks have turned to attracting savers rather than borrow from the Central Bank. The Central Bank of Russia reported a decrease of funds in current accounts to 958.4 billion roubles, while the amount of deposits grew to 373.2 billion roubles from 219.9 billion roubles at the beginning of 2012.
Elena Yushkova analyst from AK Bars Finance expects banks to preserve high interest rates "for at least another few months and in the next three months they will continue to increase."
With the lack of funding from foreign markets during the last year and increased demand for liquidity at the end of the year, many banks have actively sought funds from the public by offering higher rates on deposits – up to 12%.
Meanwhile the Central Bank is urging banks to cut risks and follow current limitations to attract deposits. Deputy President of CB Aleksey Simanovsky said "this measure is important in order to secure public and state savings."
Over the first 11 months of last year the volume of private deposits in Russia banks increased by 12.7%. The Deposit Insurance Agency (DIA) is expecting a further increase of deposits by 16-18% this year.
Vladimir Budanov, deputy director of retail products at VTB Bank believes the peak of growth of deposit rates has been reached and banks will start cutting yields on deposits by March or April."The accelerated growth of rates on deposits which we have been observing over November-December 2011 will moderate gradually. Only a few banks which have not yet increased rates could use this opportunity in a short term."