Scratchy investment: Cat trumps finance gurus at stock-picking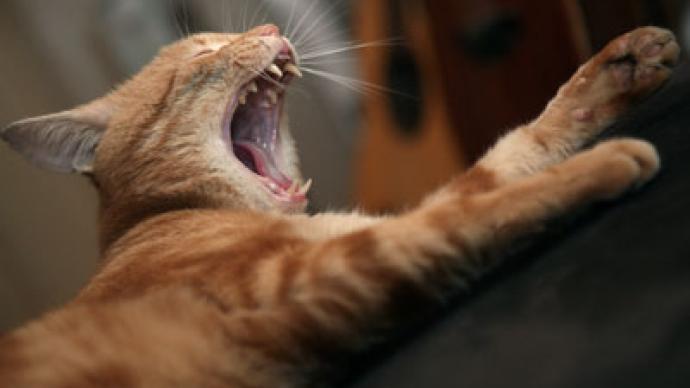 Want to increase your investment portfolio? Better ask your cat than a professional stockbroking team, the Observer's share portfolio challenge has revealed.
The challenge pitted professionals Justin Urquhart Stewart of wealth managers Seven Investment Management, Paul Kavanagh of stockbrokers Killick & Co, and Schroders fund manager Andy Brough against students from John Warner School in Hoddesdon, Hertfordshire. The third contestant group had only one member – a ginger feline named Orlando, the Guardian reported. Each team was allowed to invest a notional $8,000 in any five companies from the FTSE All-Share index at the beginning of 2012. Every three months they could exchange their stocks, replacing them with others from the index. While the professionals used their investment experience and traditional stock-picking methods, Orlando's selections were guided by him pushing his favorite toy mouse over a grid of numbers associated with different companies. By the end of September, the professionals had generated $802 of profit compared to the $471 earned by Orlando. However, fortunes changed in the fourth quarter: Lucky investment choices saw the cat increase its portfolio by an average of 4.2 percent to finish at year's-end with $8,946, compared to the professionals' $8,355. All but one of Orlando's stocks made gains during the last three months of the year, including Filtrona, which Orlando had hastily swapped for the underperforming Scottish American Investment Trust in September, the Guardian reported.The professionals declined to swap out any stocks at the end of the third quarter, and later were poorer for it. British Gas and Imagination Technologies dragged their portfolio down by an average 7.1 percent, with British Gas sinking by 19 percent and Imagination Technologies falling 16.8 percent. At the same time, the students performed best in the final quarter, increasing their portfolio by an average of 5.4 percent, though they finished in last place. The stock market is notoriously difficult to predict, and the results of the challenge show that the random selection of stocks used as a strategy by Orlando could give even better results than professional skills and knowledge. The 'random walk hypothesis' was popularized by economist Burton Malkiel; it claims that share prices move completely at random, making stock markets entirely unpredictable. It may be wise to ask your cat for investment advice after all!
You can share this story on social media: